We've covered singer-songwriter and Yorkshireman Michael Chapman in this column before. Alongside his sung works, Chapman has often included atmospheric instrumentals using blues and folk changes on his albums, now Trainsong: Guitar Compositions 1967 - 2010 (Tompkins Square), collects 26 newly recorded examples on two disca. He's a master of ragtime pieces that seem to be played by a lead, counterpoint and bass player simultaneously, though its all Chapman alone on one guitar, recorded in a single pass. His sound is serene and optimistic and, as Charles Shaar Murray comments in his notes, he seems to have an uncanny ability to evoke large bodies of water with his playing. "If you happen to be in the mood to spend an hour or two listening to one man playing the guitar by himself", continues Murray, "then you've got the right record here." And I'd echo that
Jim Irwin Mojo Magazine March edition 2011
---
Michael Chapman - Trainsong: Guitar Compositions 1967-2010
Sourcing fresh meat, a cabal of powerful Pygmalions, including the Tomkins Square label and Sonic youths's Thurston Moore, declare Michael Chapman not an overlooked English 1970's singer songwriter, but an innovator in the vein of John Fahey and the American primitive school of tranced-out folk blues instrumentals.
Now he's the subject of a tribute record, Happy Birthday, staffed by famous fans and friends, and has a vinyl noise album due on Moore's label. Most significantly, the double CD Trainsong sees the 70year old survivor re-record 26 principally acoustic, finger picking numbers from his catalogue, stretching initially simple structures into unknown space, transforming them into intense, modal meditations.

Culture Magazine Sunday Times 01/05/11
Michael Chapman - Trainsong: Guitar Compositions 1967-2010
The footnotes and legends that line the 40-year career of British guitarist and songwriter Michael Chapman are the stuff of thick biographies and fireside storytelling sessions. Chapman, for instance, suggested Mick Ronson for the electric guitar parts on his second album, 1970's Fully Qualified Survivor, a move that put the local gardener in touch with a performer named David Bowie. Elton John tried to recruit Chapman to be his acoustic guitarist (and, like Led Zeppelin, arguably borrowed some of Chapman's music for his own), and he was part of the cadre of songwriters like Syd Barrett and Shirley Collins who made Harvest Records such an important early outlet for wild, weird records. Chapman toured and befriended John Fahey and Jack Rose, recently finished work on LPs for Thurston Moore's Ecstatic Peace!, and has published a novel. It's possible to make Chapman sound like an incredible musician without examining his music at all.
But Chapman should be known for more than the myths around him, and thanks to the diligent excavations of two excellent American labels, he might soon be: In late February, Light in the Attic Records released Fully Qualified Survivor, Chapman's second LP for Harvest and the home of his most famous tune, the perfectly heartsick "Postcards of Scarborough". A terrifically unpredictable album, Survivor, even four decades later, feels beyond any genre tag. He proves he's a world-class songwriter, portraying lovesick loneliness during the gorgeous "Kodak Ghosts" with the same detail-driven despair of Bill Callahan and John Darnielle. He's an articulate, spirited guitarist, too, treating each of the notes on the brief instrumental "Fishbeard Sunset" with a Fahey-like care and commitment. "Aviator" is a 10-minute lament that never feels like an unfocused ramble. Its forlorn violin and cello (arranged by Elton John-collaborator-to-be Paul Buckmaster) push against the guitars in sinister streaks, Chapman offering his Dylan-sized invective through daring Yorkshire slurs. Fully Qualified Survivor is a boldly open-ended record, then, the kind that makes the freak-folk of the last decade seem less freaky and more like a point along an old continuum.
If it's forever his hallmark, Fully Qualified Survivor is a fitting one, as it jumps from complex, 10-minute dirges of sadness to optimistic ragtime jolts, from gritty electric boogie to forlorn folk drifts. Really, though, that's just the sign of everything else Chapman would later do. "Survivor is varied in style, but that's me. That's why people don't know what to do with me," he explains in the reissue's liner notes. Chapman has been an accidental professional musician for more than four decades, and, for many of them, his adamant eclecticism has pushed his music into unexpected and often undefined places. That's the key takeaway from Trainsong: Guitar Compositions 1967–2010, a two-disc set of Chapman originals released by Tompkins Square on the same day Light in the Attic reissued Survivor.
Trainsong includes new recordings of Chapman instrumentals written between 1967 and 2010-- 1970's jolly gem "Naked Ladies and Electric Ragtime", 2001's restfully fluid "Caddo Lake", 2010's cautiously bright "Thurston's House". Chapman is a world traveler and, it seems, an adventurous musical consumer, and here he incorporates everything from blues moans to an almost new-age calm into his music. That's not to mention the gamelan, African, and Appalachian touches that appear throughout his career. As guitarists go, he seems to be one with fewer stylistic reservations than most, bridging techniques in unconventional sequences. "Slowcoach", for instance, pairs beautiful harmonic splashes with sad passages of slide guitar and long, unfurling runs that suggest a jazz master's vamp. His electrified "Hi Heel Sneakers" alluded to Morricone in a Texas snake pit, or George Thorogood in a conservatory. The combination of distortion and reverb give his pristine lines a touch of snarl and a skin of grit. Chapman makes that blend feel natural and comfortable, as though these are the pieces that should've always been together. It's genuinely surprising work, the music of someone who seems to have heard and played enough to have found his own approach. Of course, the same could have been written 40 years ago, when Fully Qualified Survivor was first released.
Grayson Currin 05/2011 Pitchfork
www.pitchfork.com
---
Michael Chapman, "Trainsong: Guitar Compositions 1967-2010" 2xCD
It was hoped that this decade-long eruption of acoustic guitarists would lead folks back to some earlier artists who helped start it all. British guitarist Michael Chapman has been at it since the early Sixties, and is still going strong and is still willing to experiment. Trainsong: Guitar Compositions 1967-2010 is a poetic, deft overview of a career that deserves to be placed near the top of instrumental guitar players who, influenced both by John Fahey and by Delta blues and old forgotten folk songs, created a genre that celebrates weird corners of towns, musical prowess and simple but haunting melodies.
"The Last Polish Breakfast" and "Slowcoach" are brilliant, poetic songs that recall Fahey more than they ought, even from a disciple, though Chapman's chops and melodic sense give his songs a more powerful feel than most American Primitive nation guitarists. "New Chord Blues" offers gritty electric, "Uncle Jack/Looking for Charlie" is a smooth but evocative rag, and the mesmerizing "Caddo Lake" is mystic and powerful, a place where one might say that Chapman took what he learned from Fahey and made something of his own from it, something as powerful as his more. "Stranger's Map of Texas" has a nice gentle understanding of the area's music, its simple line easily one fit for a Southwest folk or country song's backbone.
Chapman also has a bright, clean tone on many of his songs, a style especially effective on "Sensimilia," "Sometimes" and "Thurston's House," the latter referring to the Sonic Youth guitarist who has recently steered Chapman toward more experimental fare (a noise record by the sixty-something legend is supposedly forthcoming). Hard electric efforts that maybe hint at what is coming include the ragged, fuzzy blues of "Extrabop" and "Hi Heel Sneakers."
The time has come to give Michael Chapman his due in the pantheon of master guitarists. Trainsong will be the perfect evidence of his mastery. Hopefully his gigs will be even more crowded once these priceless songs are heard once again
Mike Wood www.foxydigitalis.com 26/05/11
---
Michael Chapman - Trainsong: Guitar Compositions 1967-2010
Michael Chapman reverses into his own brilliant back catalogue

Singer-songwriter (and Yorkshireman) Michael Chapman was already 28 with a past life as a teacher of art and photography behind him when he released his dbut album, Rainmaker, on Harvest in 1969. Mick Ronson played on his second LP (the got introduced to The Dame) and Chapman moved to Deram - with a small fanfare - in 1973. A lot was promised for him (like it was for fellow signings Coast Road Drive) but it never really happened.

Chapman is now 70 and Trainsongs pieces together his guitar instrumentals from more than 40 years of work. All newly - and beautifully - recorded this is a decidedly musicianly affair were outre tunings are listed alongside the track names. DADGAD is here, as is DADFAD, but my favourite is Trying Times' CGCGCD, which gives a brilliantly rich, oily drone. Chapman is a staggeringly good guitarist, but what matters beyond the pages of navel-gazing guitar magazines is the tunes - and he has loads. 1972's Wellington The Skellington (it's "music for dogs to dance to" apparently), 1968's Rockport Sunday (Tom Rush) and 1999's Sweet Little Friend For Georgia are all all alive with a great spread of influences drawn, seemingly, from every stringed instrument known to man, while 2000's Caddo Lake (DACGCE and possibly Leadbelly's birthplace) has an airy, blissful melancholy that is only empowered by Chapman's wing-ding rechnique. I've never, not once, mentioned anyone's "technique" in a review before - I dont intend to do so again.

Rob Fitzpatrick Word Magazine March 2011
---
Michael Chapman - Trainsong: Guitar Compositions 1967-2010 BBC Review
Stunning double album mapping the career of an underrated folk great.
Just as John Fahey and Robbie Basho were belatedly sainted by a slew of avant-garde musicians eager to enrich their experimental fields with old primitive tradition, so the same enclave have reached out to embrace Yorkshire-born minstrel Michael Chapman.
It was Sonic Youth's Thurston Moore – a long-time fan – who arguably provided the catalyst for this unlikely renaissance, interviewing him at length for The Fretboard Journal at the tail end of 2009. During their discussion, the pair mapped out an arc stretching from Chapman's emergence on the British folk scene in 1967 – where his style was frequently compared to that of players like Bert Jansch and John Renbourn – to his current involvement with the esoteric American underground.
This rich and varied set charts that trajectory, stopping off at different points in the career of this long-unrecognised guitar master for a collection of poignant, melodic instrumentals. Blues, boogie, folk and flamenco are all covered, without any facet seeming out of place. Along the way Chapman offers tribute to a few of his stateside contemporaries with a superb reading of 1974's Fahey's Flag, its bottleneck whinny serving as fitting tribute to his old touring partner, while a version of Tom Rush's Rockport Sunday appears to reference Leo Kottke in its chiming harmonic introduction.
It's easy to discern the influence of Chapman's poised and tumbling grace on the latest generation of six-string troubadours, such as James Blackshaw and the late, great Jack Rose. Pieces like Little Molly's Dream, Ponchatoulah and Trying Times (a requiem for Rose) plunge a procession of cascading notes into the ether like a mountainside waterfall communing with a gleaming pool of dancing eddies – sheer swirls of homespun emotion.
Occasionally, Chapman eschews the acoustic for a raw strain of electrified blues that, on 1996's Sensimilia, recalls nothing as much as The Durutti Column. It might seem funny, then, that a track called Thurston's House (written during a stay at the home of the Sonic Youth head honcho while out on tour with New York's freely-improvising No-Neck Blues Band) is simply another wonderful example of his subtle folk phrasing. Those looking for more visceral thrills will no doubt welcome news of Chapman's forthcoming noise album for Moore's Ecstatic Peace imprint
by Ned Raggett
Serving as both accomplished career overview and a live-in-the-studio effort that covers two and a half hours and over 40 years of work, Trainsong is a seemingly effortless release, such is the apparent delicacy and grace of Michael Chapman's performing throughout. As Charles Shaar Murray's combatively entertaining liner notes acknowledge, Chapman couldn't play at least one favored piece due to a recent injury. What is on offer, however, is the kind of reflective, elegant playing on both acoustic and electric guitar one would expect from any instrumentalist after decades of experience. From the start, the tender flow of notes on "The Last Polish Breakfast," almost a portrait of sunrise on sparkling water, Chapman seems to be both celebrating his past and claiming a space in the present. His brief liner notes on each piece, containing tuning and year of composition, show both the directness of possible inspirations and a sharp sense of humor. One killer one from "Theme from the Movie of the Same Name": "…I decided to write an acoustic guitar disco instrumental. God help me!" Songs like "Uncle Jack/Looking for Charlie" and "Naked Ladies and Electric Ragtime" bring in flat-out merriment -- not surprising in the latter case given that it was titled after what Chapman called an answer to a question about his favorite things back in the 1960s. One of his sprightliest numbers, "Sweet Little Friend from Georgia," is a tribute to the guitar it was written and performed on, a 1963 Gibson. His tributes to fellow performers are among the best -- "Fahey's Flag" has a high, steel guitar twang to it that captures the legendary Blind Joe Death's embrace of the old and distinctive, and its shifts to alternately slower and faster tempos give the feeling of a woozy old turntable. The engaging "Thurston's House" is indeed about a time spent staying with Mr. Moore and Kim Gordon in 2006, while the brisk but still melancholy "Trying Times" is described as a tribute to Jack Rose. Elsewhere, his take on Tom Rush's "Rockport Sunday," evolving through what he calls "the folk process" into his own distinct arrangement, helps to solidify his own clear sound, at once tender and entrancing.
---
Michael Chapman - Trainsong: Guitar Compositions 1967-2010 4 Stars
Spacious, effortless guitar from master
Chapman who has just turned 70, has released more than half that number of albums in the past 40 years. He's been particularly prolific of late, belatedly embraced by the recent crop of American guitarists, including the late Jack Rose. These newly recorded instrumentals offer a timely career resume dating back to the thrilling slide playing on "Thank You PK 1944" and ragtime flavoured "Naked Ladies And Electric Ragtime" from his early Harvest albums. "Fahey's Flag" emulates his old friend's distinctive playing and there is an exquisite cover of Tom Rush's "Rockport Sunday." Blues, jazz, country, Indian, gamelan - Chapman's a master stylist
Mick Houghton Uncut Magazine 166 March 2011
---
Michael Chapman - Trainsong: Guitar Compositions 1967-2010
An underground folk figure ever since he started out playing to Cornish crowds in 1967, this double-disc career overview is released just as Chapman turns 70.
John Peel was a fan and he once counted Pink Floyd and Deep Purple as labelmates, but Chapman remained perenially obscure.
Now he has headed back into the studio to redress that, re-recording solo guitar versions of 26 songs from his rich back catalogue, spanning dozens of albums.
The instrumentals are warm, expressive and intimate, not to mention a testament to Chapman's masterful musicianship as he weaves intricate rhythm and melodic sections without breaking sweat.
As a consequence the tunes are not left feeling half-cooked, bereft of a voice, but complete, articulate and enigmatic. Chapman is a rare talent.
Hornsey Journal Jan 2011
3 stars http://www.hornseyjournal.co.uk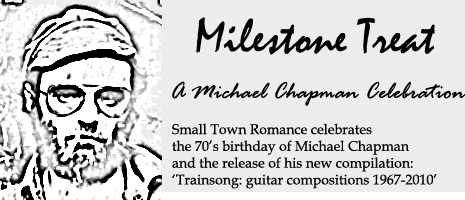 Michael Chapman - Trainsong: Guitar Compositions 1967-2010
The closing chapter in the Small Town Romance Blog 'Michael Chapman's Celebration' is here, and brings us to date, to the cause of this celebration. It took me three days to write these posts, but it was worth it. I have so much music around me, that I sometimes forget to go back to listen to the stuff I loved in the past, and just looking for the next new thing. I'm a 'Y' generation guy.
So sitting with all these classic Chapman records was a real fun time for me, discovering new facts (not all of them I included – buy the cd's and read the liner notes!), and getting a different perspective altogether on Chapman's career, just by visiting one album by the other, chronologically.
So today, we have the release of the new Tompkins Square compilation of Chapman's guitar tunes, and we'd like to wish Mr. Chapman a happy birthday for his 70's and thank him for endless good music and inspiration as a guitarist.
The new album Trainsong: Guitar Compositions 1967-2010 is a celebration indeed. This double album contains 26 tunes that Chapman re-recorded for this compilation, from his many albums he recorded in over forty years. It has it all, the naked ladies, the ragtime (acoustic and electric), the jazz, the boogie, the Davey Graham, the John Fahey – but most of all, the fine precise touch of Chapman the guitarist and the composer.
You'll find 12 strings guitars, resonators, electric guitars, acoustic guitars, carefully picked with his killer right hand, from strumming to finger picking, all of them shows that Chapman's in great shape and can play the guitar like no other. The cd contains liner notes by Chapman himself on each and every tune, and reading these little, sometime funny stories, is a quick glance to a diary of a journeyman.
He's sarcastic and witty, humble and passionate, not a man to make a fuss about anything, just sitting there watching time passing, and occasional adds his remark to each and every year that goes by. This guy had been through all the phases an artist can wish, with the good sides and bad sides in life, but always kept an amazing authenticity and left a significant trademark in his playing and compositions.
You'll also find a list of the guitars played in the record and a detailed guitar tuning list, detailed liner notes by long time fan Charles Shaar Murray (who, according to the liner notes, has been a Chapman fan since the age of 18 when he first heard Rainmaker). The overall vibe is warm and welcoming, the design is beautiful and the whole listening experience is just fabulous.
If there's a way to summarize Chapman's career up to this moment – a guitar compilation is the best way. True, Chapman's lyrics are fantastic, and his vocal delivery of the lyrics is second to none, but above all, to me, Chapman was always a composer first, guitar player second, and a singer third. So, to conclude this long journey of mine with Chapman's albums, I must say that I learned so much about him by listening to the old records again, and fell completely in love with him again.
You don't get that lucky, falling in love with your wife after so many years together, but this new compilation, does just that. It will give you a splendid Chapman time, some magic moments, will go through several moods for you and will make you take a look in the old albums and photographs.
It worked out brilliantly man, it really worked out. Happy birthday
Smalltown Romance Blog Jan 2011 visit this excellent Blog
---
Michael Chapman - Trainsong: Guitar Compositions 1967-2010 (Tompkins Square)
This is instrumental heaven. Close on two hours of Michael's solo guitar playing, with no overdubs, no unwarranted studio interventions or effects: and enough to convince anyone not already a devotee of this man's music that yes, we do need fresh recordings of 25 of the 26 pieces played here on this latest double-disc set (appended to which there's 2010's excellent Slowcoach, the final item on disc one, which receives its première recording here).
The man's a genius of course, and always has been: not only as a guitarist par excellence but as a songwriter of note and a damnably fine and distinctive singer (not to mention published novelist). However, there's much more to keep one's interest over this lengthy span than well-judged note-spinning and super-accomplished fretwork, for Trainsong unerringly provides a portrait of the man through his playing: all those intrinsic personal qualities, like the playful creativeness that's inextricably aligned to his musical intelligence.
Through this carefully managed sequence of pieces, Michael guides us through various tunings and utilises an array of different instruments (acoustic to electric, resonator to 12-string – and all listed in the booklet, albeit not track-by-track), choosing specific timbres and tonalities to suit the individual compositions. These are mostly from his own pen – and yes, many of them just seem, like Sweet Little Friend From Georgia, to've quite naturally "fell out of the soundhole", but the folk process has clearly also informed his cover versions of The Coming Of The Roads, Rockport Sunday and Hi Heel Sneakers.
Charles Shaar Murray's perceptive booklet essay pinpoints those all-important things we've always known but almost taken for granted within Michael's playing: the man's unassuming versatility and sheer inventiveness, his gritty, elemental sense of space, his resourceful eclecticism. All features that are inescapable when you listen, transfixed, to any single item on these discs. The actual compositional timespan may stretch over forty years, but Michael's musicianship is as timeless (and truthfully non-dated) as the compositions themselves
Highlights on the first disc alone come thick and fast, with each successive track providing a stunning new sonic adventure. From the expansive, leisurely close-on-nine-minute gamelan of Little Molly's Dream to the suitably eccentric Fahey's Flag (complete with fun "wind-down gramophone" effect), from the grainy electric texture of New Chord Blues to the limpid tone-portrait of Sunday Morning, from the pithy late-70s "acoustic guitar disco instrumental" cheekily titled Theme From The Movie Of The Same Name to the pair of vintage Americana-odyssey pieces from Michael's Y2k search for Uncertain Texas… – and that's only disc one!
Disc two kicks off with the iconic, insistently memorable Naked Ladies And Electric Ragtime (which crops up again on Sometimes), and proceeds through the skittish slide-oriented pseudo-polka of Wellington The Skellington, the delectable late-night duelling-ragtime hands of Silverking, the searing energy of Thank You PK 1944 and the gleaming rockabilly jive of Hi Heel Sneakers (you could say that it's not quite all over now!), finally to come to rest on the eerily evocative La Madrugada… - a masterpiece every last one. Hindsight kicks in every so often and continues to remind us what history seems content to let us forget: that Michael is one of the guitar greats, his achievements and his ongoing influence on other musicians so criminally unsung (even while I'd never ignore the importance of "the usual suspects" of the guitar world…). The presentation of the package is great too, with plenty of archive photos to savour. It's a brilliant set (hard to believe it comes straight from the hands of a near-septuagenarian too - words fail me every time I hear the man play!). Mm yes, instrumental heaven
David Kidman February 2011 http://www.netrhythms.co.uk
Michael Chapman: Naked Ladies And Electric Ragtime
Trainsong: Guitar Compositions 1967-2010 is a contemporary exploration by the English guitarist and singer-songwriter Michael Chapman of his oeuvre since he came onto the folk scene in the mid-'60s. At two discs and 26 cuts, it's a daunting enterprise to undertake in order to fully come to know the eclectic Chapman, but the songs, recorded for solo guitar with no accompaniment (vocal or otherwise), come to such vivid life that it's easy to dive right in.
What the retrospective also shows is how remarkable a songwriter Chapman is. Each song gets a short blurb from Chapman reminiscing on its origin in the liner notes. "Fahey's Flag," an homage to John Fahey where Chapman takes up the American guitarist's taste for outsider, lo-fi, slightly out-of-tune folk, was inspired by a "bizarre dinner" with Fahey in L.A., where Fahey complained to Chapman that his wife wouldn't let him bring a flag from the Nuremberg rallies into bed with her. "Sweet Little Friend From Georgia" tells the instrumental tale of a guitar Chapman found in Ringold, Georgia, in 1999, while Senegal inspired "Elenkine," and "Naked Ladies And Electric Ragtime" was written for two of Chapman's favorite things.
It's amazing that a guitarist of Chapman's breadth and skill is so little known today. While Fahey has long been the godhead of the eccentric acoustic blues, and Bert Jansch has recently been rediscovered by indie audiences, Chapman has remained largely behind the scenes. Along with the release of Tompkins Square's Trainsong, Light In The Attic has re-issued Chapman's Fully Qualified Survivor, from 1970. That album features Chapman vocals that you won't hear on Trainsong and brilliant weirdo arrangements for Chapman's acoustic guitar along with orchestral strings, drums, electric bass from Steelyeye Span's Rick Kemp, and psychedelic electric guitar work by Mick Ronson. Here Chapman has the songwriting sensibility of Nick Drake or Dylan but his sound is more often the British psych folk variety of Pentangle or Incredible String Band. The band also takes on bluesy hard rock on "Soulful Lady" while "Rabbit Hills" wouldn't have been out of place on Jerry Jeff Walker's Driftin' Way Of Life. Survivor is a remarkable record that touches ground all over the musical map. Just when you think you've got Chapman pegged, he goes off in an entirely different direction with complete fluency.
Chapman hasn't lost touch with his musical gift in the years since Survivor. His most recent compositions are still some of his best. Trainsong's "Caddo Lake," written in 2000, is one of the album's most heart-wrenching moments, with its unfolding, descending melody. And Chapman is poised to perk up the ears of a younger generation, as Bert Jansch recently has with Black Swan (produced by Noah Georgeson of Devendra Banhart's band and released on indie label Drag City). Fingerpicking enthusiasts will rejoice when Chapman and the younger American guitarist Willliam Tyler (Lambchop, Bonnie "Prince" Billy) play a series of shows together in the UK this April, before Chapman tours the U.S. this summer.
American Songwriter (http://www.americansongwriter.com) Davis Inman 03 2011
Trainsong: Guitar Compositions 1967-2010 (Tompkins Square)
You may well never have heard of Michael Chapman (and no, it's not the gravelly voiced singer who once fronted Family, that one's a Roger), but if you are a fan of beautifully played folk driven acoustic guitar then you are seriously missing out as he is just as likely to be lauded by Supergrass or Thurston Moore as 60's folk scenesters who rank him up there with Davey Graham, Bert Jansch and John Renbourn. But with well over thirty albums in his extensive back catalogue where should you start catching up? Well we reckon this double disc collection featuring 26 recently-recorded solo guitar versions of tunes spanning his entire career is a pretty damn good spot as it's just downright lovely from the first note and chock full of gorgeous goose bump guitar playing.
Raft Thong www.digformusic.com
Michael Chapman Time Past And Time Passing (Electric Ragtime) US release
Like many of the songs on Michael Chapman's Time Past Time Passing, "Dewsbury Road/That Time of Night" can be divided into two pieces. The first, either a long introduction or a separate but related composition, is a delicate web of picked guitar, serene, sunny and unhurried. The second, starting at about three minutes, introduces Chapman's voice, a dark-toned, rasp-edged instrument that immediately turns the mood darker. The song changes when he starts singing, like a country lane suddenly turning into a shadowy forest. "You know I don't scare easy….but I do get scared," Chapman intimates at regular intervals as the song proceeds, in the kind of voice that raises the hairs on your forearm. It's as if Chapman made Robert Johnson's deal at the crossroads, but traded his voice, instead of his soul, to the devil.
Chapman has, of course, had a lifetime to hone both his guitar and mic skills. He is a 40-plus year veteran of the British folk scene, a contemporary of Bert Jansch, Roy Harper, Davy Graham and others. Though not as well-known in the states as some of his peers, he recorded four highly regarded folk albums in the late 1960s and early 1970s on the Harvest label (best known for its association with Pink Floyd): Rainmaker (1969), Fully Qualified Survivor (1970), Window (1971) and Wrecked Again (1972) From there, he moved to a Decca subsidiary called Deram, and onto a series of smaller, more specialized labels. Time Past Time Passing, on the all digital label Electric Ragtime, is his 36th full-length. Although billed as "all new material," it should more accurately be called previously unrecorded material. The songs themselves come from various periods within his four-decade artistic career, as far back as the 1960s and as recently as last year.
Time Past Time Passing showcases Chapman's instrumental abilities in a handful of all-guitar cuts: the slide blues nod to the master in "Fahey's Flag"; the lilting, finger-picked "Little Molly's Dream"; the oddly percussive, gamelan-tinged "Caddo Lake." There are also some fairly straightforward verse/chorus song structures, as in the ragtime-y "Sometimes." But the most stunning compositions here are, like "Dewsbury Road/That Time of Night," a combination of songcraft and guitar playing, often split right down the middle.
Consider, for instance, opener "A Stranger's Map of Texas/The Twisted Road," with its haunting, over-hanging harmonics, and its placid flourishes and thickets of notes. Chapman's voice, coming in about halfway through, barely rises above a whisper. It is harsh and lovely in the tangle of guitar picking, murmuring hard truths against the grain of the tune. Or consider the very Fahey-esque "In the Valley," with its meditative flourishes and long reverberative pauses, all guitar for almost two minutes. Yet when Chapman begins to sing, in a hard, blues monotone, the song turns itself inside out. Its flowery beauties subside. Its underlying melancholy comes forward. "Here I sit…slightly blue," intones Chapman, and the song, too, has taken on a whiff of mortality.
This is the kind of album you could only make in your 70s. A lifetime's skill is required to play its difficult motifs. Only decades on the road could burnish a voice to this degree of exquisite roughness. Life leaves a mark.

By Jennifer Kelly Dusted Magazine
Michael Chapman - Time Past And Time Passing (Electric Ragtime) US release
Let me pose a question. How can anyone write a review of a new Michael Chapman CD without using the word 'underrated'? The answer? Just add 'criminally' in front of it and hope that no one notices. The criminally underrated English guitar legend Michael Chapman has just released his latest album, Time Past Time Passing. If you are not yet familiar with the self proclaimed white blues man from Yorkshire, this CD provides as good a place as any to put that right.
Michael is spoken of in the same breath as Bert Jansch, Wiz Jones, Richard Thompson, or Davy Graham. In fact, when he arrived on the scene he played alongside the likes of the late great Nick Drake, and the legends that are John Martyn, and Roy Harper. His acoustic guitar playing is, and always has been, a revelation. He is without doubt one of the great guitar innovators and has released over twenty wonderful examples underlining this claim since coming to notice in 1967.Perhaps his best known albums were all released on the Harvest label. Rainmaker, Wrecked Again, Millstone Girl, Americana I & II, and Fully Qualified Survivor. The latter featured guest Mick Ronson (David Bowie, Ian Hunter, Bob Dylan) and the bass of Rick Kemp (Steeleye Span). Michael has been promoting the album Time Past Time Passing (Electric Ragtime Records) on some US dates and has been receiving predictably enthusiastic reviews.
Retreating away from the world, Michael locked himself into the Phoenix Studio a stone's throw from Hadrian's Wall. It proved the perfect location and as a result he has produced some of his best work yet: just Michael, a guitar, and some self written songs. Time Past Time Passing is a joyous and highly satisfying mix of folk, blues, and instrumental pieces. Opening with "Stranger's Map Of Texas/The Twisted Road", he displays all the spellbinding intricacy that underlines the man's unbelievable guitar playing. He is, quite simply, a master, and no, that isn't too strong a term. When his world worn, yet warming voice enters you know he has a story to tell. If you are looking for a style try a shade of John Prine but with an even more extraordinary depth and complexity to the guitar.
"Sometimes" has more world weary observations on life gained, no doubt, through the experience of over forty years on the road. Uplifting, it is classic Michael Chapman. "Fahey's Dance" is a joyous slide blues. "Ponchatalla" is another pristine instrumental of the sort that would have some selling their soul at the crossroads to be able to replicate. "Dewsbury Road/That Time Of The Night" is a simply gorgeous piece. Deeply reflective many of us can identify with the line 'you know I don't scare easy but I do get scared'. "Little Molly's Dream" is another truly luscious instrumental piece played as near flawlessly as ever. "In The Valley" has an intricate introduction to a near spoken piece that simply mesmerizes.
The beautiful "Caddo Lake" flows smoothly and atmospherically. Likewise with "Memphis In Winter" which has a darkness despite its ringing guitar. It is the definition of melancholic cynicism. Sadly with songs such as this, you quickly realise that what he says, is what he has seen. The instrumental blending of "Silverking/Dust Devils" lifts the spirits. The chiming guitar of "Vanity & Pride" brings the album to a strangely unfinished 'finish' that seems to challenge you not to start the process off again.
There is an extraordinarily magical intimacy to this album, like he is seated in your house with just a few friends and a bottle or two of wine. Self produced, the album has an honesty and integrity that is truly refreshing in this over dubbed, re-mastered, download age of condensed 'perfection'. If it is perfection you are looking for, then start with acoustic guitar playing like this. That guitar playing has amazed and entertained people for a long time and will continue to do so on Time Past Time Passing. I would give almost anything to play like that just once in my life. However, a trip to the crossroads is really not such a great long-term plan, so I'll make do with listening to the master himself, Michael Chapman.
Jeff Perkins BC online magazine
"Chapman is an old-school hero of the British folk movement, right up there with John Martyn, Bert Jansch and Nick Drake. But unlike those guys the mind-blowing guitarist has always sounded as if he could've been born and raised in Texas or even Tennessee. With its Western-inspired soundscapes, Time Past & Time Passing is pure Americana. Chapman even has a raspy, time-worn drawl that would sound right at home in a campfire jam session with gritty dudes like Guy Clark and Kris Kristofferson."
Justin Farrar Rhapsody
A rather underrated figure here in the U.S., Michael Chapman is to my mind one of the essential figures to come out of the early seventies British folk rock scene, whose best work is easily on par with that of Bert Jansch, Roy Harper, John Martyn, Bill Fay, etc. His gruff and laconic singing style is instantly recognizable, and his skill on the guitar has only gotten better with age. He made a rare trip to the states a couple years back and recorded a session with former Other Music employee Rob Hatch-Miller for his WFMU program that totally bowled me over; I just could not get over how freaking great he still was, and a burn of that show ended up being one of the things I listened to most that year. I'm happy to report that he has an excellent new album of mostly solo acoustic guitar tracks, and I'll be frank, he can play circles around most of the current crop of fingerpickers. He's really become as good as Fahey was in his prime, and that's not just hyperbole.

Michael Klausman (October 10, 2008)
Michael Chapman was, in the late 60s and early 70s, a well-established figure in the Brit folk nobility along with a number of even larger figures like Roy Harper, Bert Jansch, and John Martyn. Chapman attracted the attention of high-level players along the lines of Mick Ronson (Bowie & Spiders), Paul Buckmaster (better known for arranging), Gus Dudgeon (big time producer), Rick Kemp (Steeleye Span), Rod Clements & Ray Laidlaw (Lindisfarne), and so on. For three major labels, he put out eight well-regarded LPs that slowly wended their way to a more rock-ish sound, Afterwards came a fade into the alt market where he returned to folk and composed much more instrumentally, which this CD emphasizes beautifully…to the surprise of cats like me who have his early output and hadn't expected it at all.
Chapman has a marvelous fingerpicking style that slips in between Jansch, Ralph McTell, Al Stewart, Peter Lang, John Fahey, and the more prosaic players favoring slowly evolving patterns and sonic stories rather than lightning riffs and bizarre tempi. The guy's now 67 and has developed a very masterful hand, confident, lithe, measuring itself by the richness and expressiveness of lines put through often trance-ily fascinating changes. There are, however, several vocal cuts, mostly in a sprechestimmish tone, redolent not only of worldliness but weariness as well, always a good combination in folk and blues.
Speaking of blues, a couple of times Chapman demonstrates the same raw and rootsy immediacy of a Bernie Pearl, especially when playing slide, though most of the album is serene, sometimes jazzily fractured, folk and quasi-classically chamberish, modern instrumentation with elder values. Since 1969, the guy has put out 32 releases, no small feat. On this one, as I also suspect is the case in much of his recenter output, you get just him and his guitars along with an effects pedal or two, and the result couldn't be more pleasing.
Folk & Acoustic Music Exchange Mark S. Tucker
Michael Chapman is one of those musicians I've long heard of but never actually heard. Wow, that's been my loss, but also now a great discovery. Courtesy of my friend Howard Wuelfing comes Chapman's newest album, Time Past & Time Passing. It's a stripped-down affair, with just Chapman on acoustic guitar and singing. The recording is intimate and warm with a sparkle of reverb here and there.
An extremely versatile player, Chapman is adept at "British-style" finger picking as well as Delta blues and slide, and his voice has a weathered, oak-y quality like a well-aged single malt whisky. That quality comes across markedly on the terrific "Sometimes," a visceral examination of life's ups and downs with some nifty fretwork. Chapman can also get down and dirty on the axe, such as on the tribute to fellow fingerpicker and seminal acoustic guitarist John Fahey on "Fahey's Flag," a gut-bucket, slide blues workout. "Ponchatoula," by contrast, is a peaceful, lullaby-ish interlude.
Chapman has the rare ability to write not just great songs but great instrumentals. Case in point is the phenomenal "Caddo Lake," a heartbreakingly gorgeous guitar tune - one of my favorites ever. "Silver King/Dust Devils" is a joyous ragtime-like romp that recalls Piedmont pickers like the Reverend Gary Davis. "Vanity & Pride" is another instrumental that brings the album to a shimmering end, sounding something like Pat Metheny.
If, like me, you've never heard Chapman previously, this album is a great place to start. Then, you can go back to a substantial catalog, including celebrated albums such as 1970's Fully Qualified Survivor, voted by legendary British DJ John Peel as his favorite record of the year. I'm looking forward to more discoveries.
classicrockmusicblog.com
Veteran British guitarist Michael Chapman produces a beautifully moving and harmonic little gem with his simply lovely latest album. Chapman's wonderfully hoarse and weary voice conveys a wealth of hard-won wisdom and ragged emotion while his sharp, fluid and skillful guitar playing never hits a single false or flat note. Moreover, his songwriting has a maturity and thoughtfulness that's a real pleasure to hear. The slowly trudging tempos and subdued, yet steady beats keep things laid-back, yet still tuneful throughout. Better still, such songs as "Sometimes," "That Time of Night," and "Memphis in Winter" have a serenely reflective and straightforward quality that's downright sublime in its eloquent simplicity and delicate melodicism. A sparkling jewel of an album.

Jersey Beat

While the name Michael Chapman may be unfamiliar to a mass audience, amongst serious guitar enthusiasts this Brit ranks right next to Richard Thompson, John Martyn and Davy Graham. But unlike his countrymen, Chapman has heaping helpings of John Fahey and even the pleasant aerial wisp of early Windham Hill players like Michael Hedges and Will Ackerman. His latest release in a long career stretching back to the 1960s is sonorous, end-to-end pleasure, mixing mesmerizing instrumentals with breathy, weathered ruminations. Opening cut "A Stranger's Map of Texas/The Twisted Road" issues forth an incredibly lovely guitar figure and the simple, repeated observation, "I never thought it'd be this way." There's a reflective quality to the lyrics, delivered in a voice that's somewhere between Nathan Moore and Leonard Cohen, a well smoked sound that's penetratingly effective despite its gossamer nature. His picking here is far less highfalutin' than his rep might suggest. Oh, he's doing stuff on the strings that most mortals couldn't accomplish but Chapman also brings in the pleasures of country blues, rock feedback and pre-war folk, snatching elements that appeal to him and knitting them into a whole that's surprisingly approachable. And this warm character – sometimes suggesting a backcountry Durutti Column, whose Vini Reilly is an obvious descendent of Chapman's - is what makes Time Past & Time Passing (Electric Ragtime Records/Ryko) such a fantastic listen, where technique and experience serve pleasurable music and avoid the usual showy displays many masters fall prey to.
By Dennis Cook Jam Base online Magazine
http://www.jambase.com March 2009
Michael Chapman should be part of every guitarist's curricula. He's a legendary instrumentalist and innovator out of the '60s British blues scene who layers elements of blues, folk, and rock into a unique polyphonic style. Chapman's nuanced finger-picking bridges the Delta blues of Mississippi John Hurt and the contemporary instrumental folk-jazz of Don Ross. Fans of Leo Kottke, Ry Cooder, and Mark Knopfler will find shared interest in Time Past & Time Passing.
Chapman has over two dozen albums to his credit; Time Past & Time Passing is his 26th or so, depending on how one counts reissues. Time Past & Time Passing is a richly layered, soothing, and mostly-instrumental album. Chapman plays emotive point and counterpoint, polyrhythmic, braiding melodies that seem to be made of wind, silver, and darkness. His quiet and reflective vocals—a mix of Willie Nelson and Roy Harper—add another element of complexity; like rough wool in a satin tapestry, his voice is a textural component that adds dimensionality.
It's tough to pick a favorite track from this superb CD—"A Stranger's Map of Texas," "Ponchatoulah," "Little Molly's Dream," and "Caddo Lake" are mesmerizing. "That Time of Night," "Into the Valley," and "Memphis in Winter" ("They say that Jesus saves/ I've seen none of that 'round here") are moody and contemplative. "Fahey's Flag" and "Silverking/Dust Devils" are spry tracks.
Time Past & Time Passing showcases a legendary blues finger-picking virtuoso. Check it out.
—Lyn Dunagan - Caught In The Carousel 2009