archive - main news page
contact us | back to main page | how to book michael chapman
Bare Knuckle Records Compilation with Michael Chapman track
have found an otherwise unreleased / unavailable Michael Chapman track on a compilation by a Jersey based label called Bare Knuckle Records.
http://www.bareknucklerecords.com/new_bomp.htm
at the bottom of this page there is a running order and a link to a streamed (but thin sounding) version of the track to whet your appetite the track must date from michaels live dates on the isles.
Dont attempt to use paypal to buy the cd, the company no longer exists and so obviously doesnt mail out
Wrytree Drift
The latest on Michael's album is that the sessions have grown to 2 albums. The first is an album now titled Wrytree Drift Interestingly the drift is the mine mine that runs close to Michael's farm. Life On The Ceiling's Prospector was written around its origins and now this album's title marks its closing a couple of years ago. This one is almost finished except for some tweeking on Deportees recorded with vocals by Maddy Prior that doesnt sound ethereal enough yet.
Streamline train (trad) a homage to the vipers

Where does that leave me

Anniversary a very early song long forgotten rediscovered by Michael via the Growing Pains albums

Ramon and durango

Georgia Gibson

Deportees (Woody Guthrie)

Midnight ride an ancient bbc session recorded at last

Three Sisters

Youth is wasted on the young

Victory and defeat

Bon ton roolay a new recording where Michael samples the bass part off an earlier unreleased version from his album with Richie Close Whispered Evidence
Michael has also lined up studio time for Simple a album of covers recorded solo just guitar and vocals. Tracks lined up include Nick Drakes Which Will originally recorded for the first album and I Want A Little Girl by Jimmy Rushing
October 2005 Singer Songwriters In The Round - Peter Bruntnell Michael Chapman & Janis Haves
After the amazing successes of the Singer Songwriters In The Round gigs last year. High profile gigs and excellent reviews. Janis, Michael and Peter are teaming up again. Dates are being booked now by Adrian Melling (MD of Planet Records who released Navigation in 1995 and who now runs Pendle Hawk Music Distribution) 01282 866 317
Simple by Rod Clements
Posted by Rod on 22/3/2005, 12:00 pm,
Oh, all right then! On January 24th (Michael Chapman's birthday, as it happens) I answered his summons and went via his house (to collect him) to his friendly local recording studio in Brampton, Cumbria. The recordings I was to play on were 90% completed but Michael wanted me to add some electric slide to a couple of tracks and a bass part (replacing his own original) to one of them. This I did, using my Strat and a bass that was hanging on the studio wall. As I'd brought the dobro (just in case), Michael identified an additional track that it could work on, so I played on that as well. I don't know what any of the songs were called but they sounded fine. If you're an MC fan you won't be disappointed, and if you haven't heard him yet you should check him out.
Job done, we went back chez Chapman and thence to the Centre of Britain in Haltwhistle for a birthday tea in a party which included Andru (Mrs MC), Marie, Maddy Prior and Rick Kemp, and a grand time was had by all.
This is reprinted from Rod Clements' own website which is well worth a look
MH 30 03 05
Simple (anything but no doubt)
Michael is currently in the studio recording a new album. Titled after an instrumental it features some new songs. Some covers including Woody Guthries deportees, which I saw Michael play with Dave Gardner, . A studio version of Anniversary and a reworking of Bon Ton Roolay. Jeff Betts again appears on pedal steel and hopefully Maddy Prior and Rose Kemp will add vocals to Deportees.
Last time I spoke to Michael, he said that Rod Clements had been adding some guitar and bass parts to the tracks for the album. Rod & Michael first played live together during the 70s and recorded together on The Man Who Hated Mornings and Looking For Eleven.
Ramon and durango

Where does that leave me

Anniversary

Streamline train (trad)

Simple (instrumental)

Deportees (Woody Guthrie)

Midnight ride

Which will (Nick Drake)

Youth is wasted on the young

Victory and defeat

I want a little girl (Jimmy Rodgers)

Bon ton roolay
John Peel 1939 - 2004
John Peel dj at Radio one since the begining and unerring champion of the alternative side of ccutting edge music has died while on holiday in Peru. John was a champion of Michael Chapman in the early days. Such was the frequency with which Michael sessioned on the Peel show or the regularity that John played Chapman tracks that people wrongly presumed they were great mates. The music was their only connection and Michael recalls only ever meeting Peel once.
John listed Fully Qualified Survivor among his three favourite albums of 1970, Postcards Of Scarborough was listed in his Peelenium a look back at the 20th ccentury in music. More recently John had played Postcards one of his wife Sheila's favourite tracks as a get well while she herself had being recovering from serious illness.
full obituary and more news within bbc site
mh 26 10 04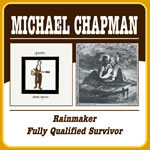 reissues: Rainmaker Fully Qualified Survivor Window Wrecked Again
BGO records' Rainmaker / Fully Qualified Survivor double cd set is now in the shops. The set features new comprehensive sleeve notes, excellent quality remastering and an excellent reproductions of the sleeves.
Window the final chapter....
Bizarrely some 34 years after EMI accidently pressed it up unfinished Michael has gone back into the studio to 'finish' Window. It was he says a strange experience listening to 'dead people on the between track studio chatter (Gus Dudgeon producer, Robin Cable engineer and Richie Dharma drummer are all no longer with us). The resulting cd features extensively tweeked recordings with Michaels guitar restored (contempory reviews of the album commented unfavourably on the thin or invisible guitar. Changes have been made to Among The Trees and other tracks. 6.15 has some of the more 'relaxed' vocals removed, Michael couldnt even find Andrus and Arthur Dog's vocals on the track masters, suggesting that EMI may not have even used the correct masters anyhow.
Also added are unreleased takes of On My Way Again substantially different to the version released as an extra track on the Rainmaker cd in 1998 and a solo recording of Hobo's Lamentations recorded at the sessions. The completed tapes are with Michaels publishers but there is no release date or label as yet
Simple
After a long block Michael has starting writing songs again. Out getting coal a song recalling touring in Spain dropped into his head. He excitedly reports having other bits of songs on the go and having rediscovered 'Youth is wasted on the young' and another song he recorded with Thurston Moore and Jim O'Rourke for the Thurston and English project. Michael is booked into the studio at the end of this month to work on an album he has titled 'Simple' after a new instrumental piece
reissues: Michael Chapman Dangerous When Sober An Alternative History
Sanctuary Records are putting out a Michael Chapman compilation on 23 08 04. It is titled Michael Chapman Dangerous When Sober An Alternative History. It is an excellent title, the double set features photos from Michaels personal collection and images from my own archives, but it is as a glance at the running order below will show a tasteful cherry pick through the 3 albums that Michael released through Mooncrest (Growing Pains Volume One, Growing Pains Volume Two and the expanded reissue of Pleasures Of The Street.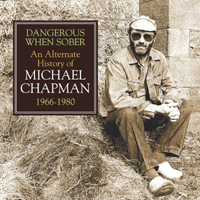 So an excellent set with some fine photos if you dont have the Mooncrest cds or like me are a completist. But otherwise it contains fine material (acoustic live stuff from the late sixties and early seventies), the Fairview demos - Michaels earliest available recordings, fine mid seventies live recordings from Hamburg and the studio live set by a version of the Chapman big band, taken from the Mooncrest cds. Michael is talking to Sanctuary / Castle Music about putting out Growing Pains Volume 3 a collection of collaborations with people like Rick Kemp and Maddy Prior as a future possibility. Sanctuary with their excellent distribution and high presence may result in a raised profile for Michael and some good reviews though
MH 07 04
link to Sanctuary Records Group
DISC 1

Key To The Highway (Demo)

See See Rider (Demo)

Let Me Go Home Whiskey (Demo)

Parchman Farm (Demo)

Rockport Sunday

Andru's Easy Rider

Indian Queens

Not So Much A Garden (More Like A Maze)

Anniversary

It Didn't Work Out

Thank You P.K1944.

Melody-Daisy Bell/Naked Ladies & Electric Ragtime

Reason To Believe

Wrecked Again

Rabbit Hills

A Scholarly Man

DISC 2

Party Pieces

Among The Trees

In The Valley

Shuffleboat River Farewell

Firewater Dreams

Wrecked Again

Deal Gone Down

Sea Of Wine

Hero Returns

Time Enough To Spare

Devastation Hotel

The Secret Of The Locks

How Can A Poor Man Stand Such Times And Live?

Here We Go Again (Demo)

Running For Cover (Demo)

Lonely By The Mile (Demo)

Dangerous When Sober (Demo)
Michael Chapman & Peter Ratzenbeck January 2005
Michael will be in Phoenix Studios with Austrian Guitarist Peter Ratzenbeck producing a album by Peter. Ratzenbeck is an accomplished player who was inspired after seeing Michael supporting John Mayall in Gratz in 1973. He is a long time fan of Michaels. I have got an album of his, Over the Years (Shamrock 1990) on which Peter does an excellent version of Wellington The Skellington. As well as material from the playing of John Renbourn & Davey Graham and songs by Peter himself.
Michael is producing and doesnt rule out the possibility of playing but said "I will play if he wants me to but its not my job to crawl all over his album"
There is also a two leg European tour with Michael and Peter playing through Spring and Autumn 2005 will post details when I have them.
MH 27 06 04
Reissues 'Dogs Got More Sense' Decca Years Box, Harvest Albums reissued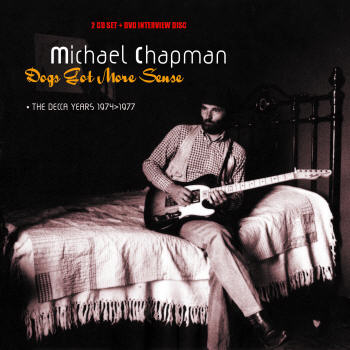 The long awaited box set that brings together 3 albums that Michael released through Decca (Deal Gone Down, Savage Amusement & The Man Who Hated Mornings) along with demos, an excellent aborted single version of Dogs Got More Sense, a single b side and a 53 minute DVD interview with Michael in his living room is out now. There are some atmospheric photos on the cover, extensive sleeve notes and card versions of the original LP fronts. Go to Secret Records site to get your copy.
Plans continue to reissue the Harvest albums and Millstone Grit. Michael's Publishing company for the Harvest material 'Bucks Music' have announced that they have unreleased material from the original sessions, out takes, studio chat between Michael and Gus Dudgeon and Michael working out material for Rainmaker. Bucks Music are also organising studio time for Michael to remix and add to Window, this being that album that EMI famously released while Michael was in Europe and before it was finished. The plan is that Michael replaces some of the guitar parts that are only there as guides and adds in the parts that he never had chance to. The intention is to have original versions and 'as they were intended' versions on the same disc if space allows.
Michael Chapman Maddy Prior & Rose Kemp live Friday 22nd May 2004 updated
go to live reviews and click on photos to see a photo from this exclusive gig for the many people who couldnt get there
This is a fundraiser for The Ethiopian Village Medical Appeal a charity Andru and Maddy will be doing a sponsored trek for later this year. Tickets are £15 the event is being put on in an intimate venue in Bewcastle, Cumbria. Morew information and ticket ordering details on the concert page. Promises to be a unique concert by three highly individual and accomplished performers (anyone how hasnt heard Rose's album glance (out on park records) really should
Journeymen : Live on The Tweed DVD

Advanced copies of the Secret Records DVD

'Michael Chapman, Journeyman Live on the Tweed are now out (well I have mine).

Sound and video are excellent. Sounds amazing through the stereo. Taped in the Cellar Bar at the Barrels Ale House in Berwick-on-Tweed. Highly recommended
Running order: Looking for charlie in nogales, It aint so, Sensimilia, One time thing, Sometimes, The Mallard, Ponchatoulah, Sweet little friend from georgia, Dust devils, Theme from the movie of the same name, Postcards of scarborough, Memphis in winter, Anniversary, Shuffleboat river farewell, After all this time, Rabbit hills, Bon ton roolay, Faheys flag, Kodak ghosts.
actual release date 08 03 04 Catalogue number SECDVD122.
february 2004
Life on the Ceiling & Heartbeat
We have unplayed original vinyl copies of Life on the Ceiling (Criminal Records 1979) & Heartbeat (Coda 1987) these have all original inserts and been signed by Michael. Both are available for £10 each plus £1.80 UK postage. Email for payment details, you can also buy through paypal (marchiggins@hotmail.com)
december 2003
Re-releases for 2004
Michael has given me a timetable for releases for spring 2004.
March-April see the release of Rainmaker, Fully Qualified Survivor, Window, Wrecked Again & Millstone Grit on BGO records. The cds will feature new sleeve notes and Michael is still in talks about changes to the cover art on Wrecked Again and a remix for bits of Window.
May 2004 sees the release of the Secret Records boxed set that includes Deal Gone Down, Savage Amusement, The Man Who Hated Mornings with a forth disc of demos and home recordings. Incidently if anyone has any interesting relevant anecdotes that relate to any of these albums or contempory live appearences I would love to hear them
Also out through Secret Records will be a live DVD with interview footage. The DVD recorded at Barrels Ale House in Barrow-in-furness features a solo concert. Incidently Michael doesnt currently have a catchy title for the DVD, Secret suggested 'Live on the tweed' (hmmm). Any suggestions gratefully recieved. There has to be a title around 'words and pictures' or a lyrical quote from one of the songs.
Voiceprint Records have done a lot of apologising about the misunderstandings around Still Making Rain & Almost Alone. Still Making Rain is to resequenced with the full interview as intended and the session tracks. Michael said that there will be a return arrangement so that people can exchange the 'wrong' Still Making Rain for the 'right' one with the full running order. Personally I shall be hanging onto my copy as a Chapman rarity in the making.
The remainder of the session and more live tracks including one of Michael's long medleys of material will be on Almost Alone.
december 2003
Harvest Albums
BGO records are in the process of putting together Michaels Harvest albums for release on cd early in 2004. Also included in this cd release program will be Millstone Grit and Lived Here the compilation. Millstone Grit was originally going to come out through Harvest EMI and Lived Here is a compilation of material from that period.
Rainmaker & Fullly Qualified Survivor have been re-released before. Indeed Michael thinks Survivor has been in print on one label or another since its original release. EMI, Criminal Records, See For Miles/Edsel, Repertoire and now BGO. An indication he says that they (Michael, Rick, Mick Ronson, Barry Morgan, Gus Dudgeon and co) got something right when they recorded that one.
| | | |
| --- | --- | --- |
| | | Wrecked Again, Window and Millstone Grit have never been re-released since their original vinyl release and have never been available on cd. While the Record Collector Guide book price of £225 is a typo, Window is generally felt to be the rarest of the Harvest quartet of albums. Michael and Andru remember a big promotional campaign for the album, coming after Fully Qualified Survivor there was a big push with an ads and showcase gigs at the Queen Elizabeth Rooms (co-incidently the site of my first Michael Chapman concert some 16 years later) and Drury Lane Theatre in London. However such was Michaels enthusiasm for getting it out before Christmas 1970 that he rushed the mixing. He talks about his dissatisfaction with the mix in a Sounds interview, "I tried to get it withdrawn; but it was too late because 20,000 copies had already been printed |
Michael felt that the albums presumed scarcity might be because he discouraged people from buying it at the time as he was dissapointed with it. Talks are underway at the moment between Michael, his publishers and BGO about the possibilty of a remix or even adding new guitar parts to create tracks they way they were intended. These could then be used as replacement or additonal tracks on Window This is dependant on BGO feeling that it is worth spending money on studio time and that someone can find the original 16 tracks masters.
Wrecked Again should also have had another photo of Michael and Rick behind the striking text on the front of the gatefold sleeve. Michael is keen to get the unused photo onto the sleeve of the reissue.
There is no information yet about whether the original sleeves will be reproduced like the Repertoire reissues of Rainmaker & Fully Qualified Survivor. Of if there will be any additional tracks. Michael has always maintained that he always wiped unused material and was surprised by the existence of the tracks that bolstered up the Repertoire Rainmaker reissue. In an January 71 Sounds interview Michael talks about the fact that 'On My Way Again' was recorded for Rainmaker, Fully Qualified Survivor & Window. He was very pleased with the Window sessions version with Johnny Van Derek which turned up on the Rainmaker German Cd, being left off at the time as it was too long.
Anyone reading this could email BGO and state how more happy they would be to buy Window and Wrecked Again with either further studio work for additional tracks or ammended artwork. email BGO records
October 2003
New Album
Michael is looking to book studio time late 2003 early 2004 for a new album. He doesnt have any new songs yet but has songs and ideas from a few years back that he wants to look at again. Michael also wants to record some of the songs that inspired him to originally pick up the guitar and continue to resonate. He also has an idea for more instrumental recordings, speaking enthusiastically about a piece of slide playing he has 'written' called Alfie's last drive (Alfie being the black labrador on the sleeve of Dreaming out loud who died recently). This track will join Chapman's Dog related recordings like Wellington The Skellington, Dogs Got More Sense, Jumping Geordie and the unfortunately titled Lumpy Mcbumpy and numerous lyrical references. Wellington even appeared on Window adding his vocal prowess to 'came in like the 6.15'
Secret Record Album boxed set
The compilation and eventual release of the box that will bring together Deal Gone Down, Savage Amusement and Man Who Hated Mornings ,contempory home recordings, demos and a more recent solo live dvd from Barrow-in-furness. No release date yet though
MH 11 03
Marwood
Michael has been in the Studio in Preston and in nearer home at Phoenix, producing the debut album by Preston based Marwood more information when its available
Sounds of the Cities Nearly Famous by Ray Moody
Excellent book now available that alphabetically details bands and performers from Hull, the East Riding, Scarborough, York, Scunthorpe and Grimsby during the 60's. Very good section on Michael and his time in Hull. Good photos too, live and promotional shots. Details of Chapmans' Electric Army an informal band from 60's. Also details of people that Michael has played with or worked with, Rick Kemp, Roy Neave and Keith Herd.

There is a really good final section of concert posters, flyers and adverts arranged by year.

ISBN 7011506 06 £13.99

Ray has been selling them through Ebay contact him for details information or availability email Ray Moody
MH 20/04/03
Michael now has new Representation contact Charmaine Hawkins 0117 9443040 email Charmaine Hawkins@blueyonder.co.uk if you are interested in booking Michael Chapman
MH 01/01/03
Almost Alone & Still Making Rain
Re-released on Michael's Rural Retreat Records in March 2003 will be Almost Alone (augmented with radio session recordings and interview from LA circa 1981. Originally released on Black Crow in 1981 this will be out on cd for the first time. Also released at the same time will be Still Making Rain an kind of companion to Almost Alone as it features Michael playing solo (technically playing with himself, as he plays guitars, bass and percussion). This will be in a remixed version with additional radio session recordings and interview from 1981.
Michael Chapman - Americana 2 (Michael's latest album) Reviewed
Gus Dudgeon 30 08 42 - 21 07 02
It was with great sadness that I learnt today about the death of Gus Dudgeon. Gus, producer of Michael's Harvest albums, Rainmaker, Fully Qualified Survivor, Window and Wrecked Again died on Sunday in a road accident. He was killed when his car veered off the M4 between Reading and Maidenhead. Gus and his wife Sheila, also travelling in the car were pronounced dead at the scene.
Although more widely known for his work with Elton John and David Bowie, Gus was an important element on the EMI albums, even appearing on the sleeve of Window. As recently as a few years ago he and Michael had talked about working together again.
MH 22/07/02
Live & Unhinged
Michael has put together a for sale at gigs only 79 minute live cd he has called 'Live and Unhinged it features tracks like 'Annivesary' a stretched out version of She Moved Through The Fair that Michael is very pleased with (a treat for those people who like me throught the version on Still Making Rain stopped just as it was getting started) and a version of that perennial live cover 'High Heeled Sneekers'
This will be available from the usual grubby plastic bag or cardboard box at the concerts starting this weekend, so a reason if you needed one to go a see Michael live (hinged or otherwise). if you have heard it (I havent yet), or one of the gigs email us in a review.
MH 17/07/02
''Abandoned''
Michael has applied for funding from Northern Arts for a trip to the states to produce a book of photographs of objects that have been thrown away.
The idea was inspired by seeing ancient cars, and all manner of abandoned material including aircraft by the roadside in Arizona preserved in time by the dry desert air.
22/05/02
"..The photos are just images (as is some of the music),
there are no people in them to define the scale.."
American 2: Feb/ March 2002
Just as Americana 1 was about the soft ,soupy atmosphere of the deep South, no 2 is made with the hard edged light of the South west in mind.
We flew in to LA late at night , hired a car and got out of there quick, down the coast towards San Diego, found motel and slept. At breakfast some nutter wearing a blind man's shades tried to sell me a six hundred year old crystal. Welcome to California.
We met the wonderful Dottie at Owl Station, paused for a while and then headed for the border. There was no mention of Charlie Mingus in Nogales and we ended up in Bisbee, playing jazz guitar duets in the Silver King Hotel, everything painted white and a mysterious heating system.
Then into serious Indian Country, the ghosts of Geronimo and Cochise everywhere. Up into the Canyon de Chelly, Monument Valley and the Grand Canyon, being proper tourists for once. It snowed in Williams Az. Then we drove some of what remains of the old Route 66 towards California, slept in William Bendix's room in Gallup NM, saw Clark Gable's honeymoon suite in Oatman then turned off to Joshua Tree to finish the Gram Parsons cycle we had started in Waycross Ga. in '98.
The photos are just images (as is some of the music), there are no people in them to define the scale.
Recorded as usual at Phoenix with Alex Warnes.
MC 11/04/02
Voiceprint the label that have already re-released Heartbeat the instrumental album from 1987 are now keen to re-release Almost Alone from 1981 and Still Making Rain from the early 1990's. Michael wants to rework some of the material on Still Making Rain and add extra tracks to both albums. These albums should be with Voiceprint in the next eight weeks or so, will post a release date when we have them.
Michael has given the go ahead to make the tablature and details for Play Guitar The Easy Way available on the website so watch this space, he is also provided me with the patches to make sure that the tablature actually works.
Launched hopefully this May will be the first Michael Chapman record label Rural Retreat Records (abreviated to 3R). This label will be the home for Michael's future releases. 3R will also allow Michael to produce and record the artists that he likes.
The first projected releases should be albums from
Bridget St John a name familiar to anyone who has followed Michael Chapman since the 70's.
Patsy Matherson a singer who has recorded with Michael in the recent past
Journeyman click here to join Journeyman a Yahoo group for e mailed updates on live dates and anything else Chapman related
Early summer will (hopefuly) see the release of a boxed set of Michael's albums, Deal Gone Down, Savage Amusement & The Man Who Hated Mornings. The final set either over three or four discs will include the previously unavailable guitar and vocal demos for many of the tracks recorded by Michael.
spring 2002
contact us | index page | how to book michael
<page updated 02 04>
you are here: www.michaelchapman.co.uk news