"Old white blues guy from Hunslet. Bona fide genius"
Record Collector 12 2012
contact us | back to main page | how to book michael chapman
Time Past And Time Passing - Sweet Powder - Wedding Band - And Then There Were Three - Trainsongs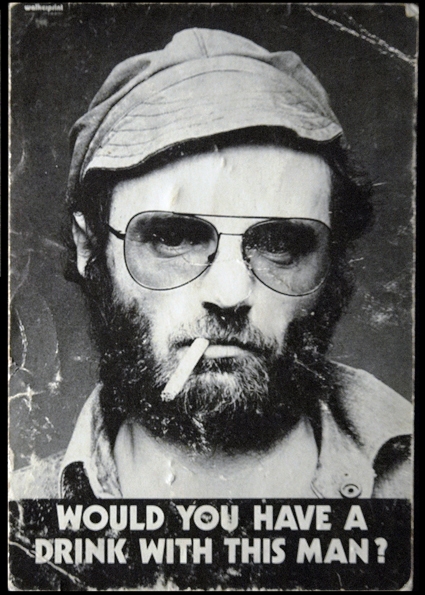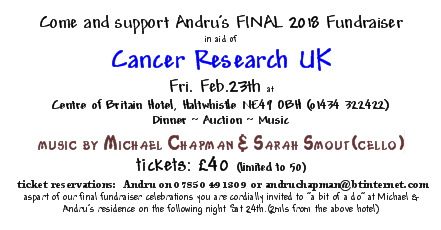 Looking back on 2016
Best single track of the year "Tilted" by Christine & The Queens
Best instrumental album "Modern Country" by William Tyler
Best songwriter album "Heart like a Leveee" by Hiss Golden Messenger
New album find of the year "Not even Happiness" by Julie Byrne
Best gig(s) of the year – the final 2 nights ever at The Count House
Worst gig of the year – St. Austell the night before- sorry!Worst journey of the year – Liege to Berlin (don't get on the train going the wrong way – finally got to Berlin at 10pm and got a standing ovation just for walking in- following day I had a 14hr. train journey down to Geneva- the joys of touring )
Professional highlight of the year – recording the album up at Black Dirt and the final gig of the year in Nyon Switzerland which was everything a gig should be.
Personal highlight of the year – our Golden "Non Wedding" surrounded by friends and family.
Playing on the Wrytree Juke Box Christmas Week
The Very Best of the Everley Brothers
Julie Byrne Not even Happiness
Tilted – Christine & the Queens
Highway Anxiety – William Tyler
Golden Gunn – Steve Gunn & Mike Taylor (Hiss Golden Messenger)
Essential Chess Blues
Haydn's Horn Concerto # 1 in D (otherwise known as Haydn's Hangover Boogie)
Best of Leon Russell
Leon Russell and The Shelter People
Storm and Grace – Lisa Marie Presley
Hopes and wishes for 2017?
Million selling album would be good – you can but hope
Happy New Year
Michael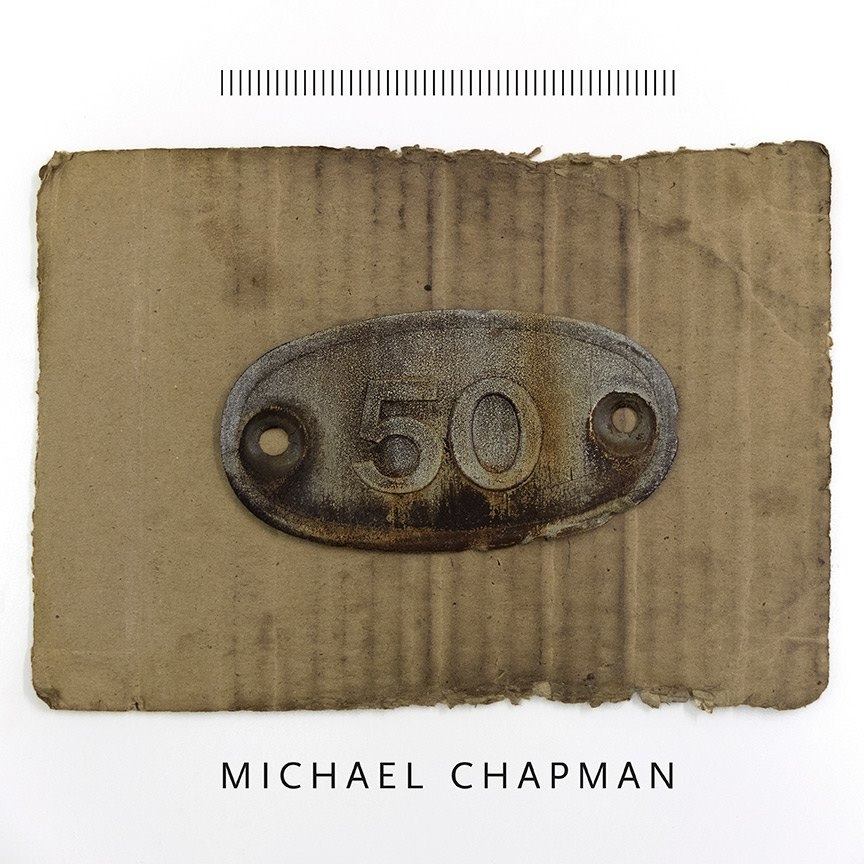 50 2017
Band songs based album produced by American sogwriter and musician Steve Gunn click here for more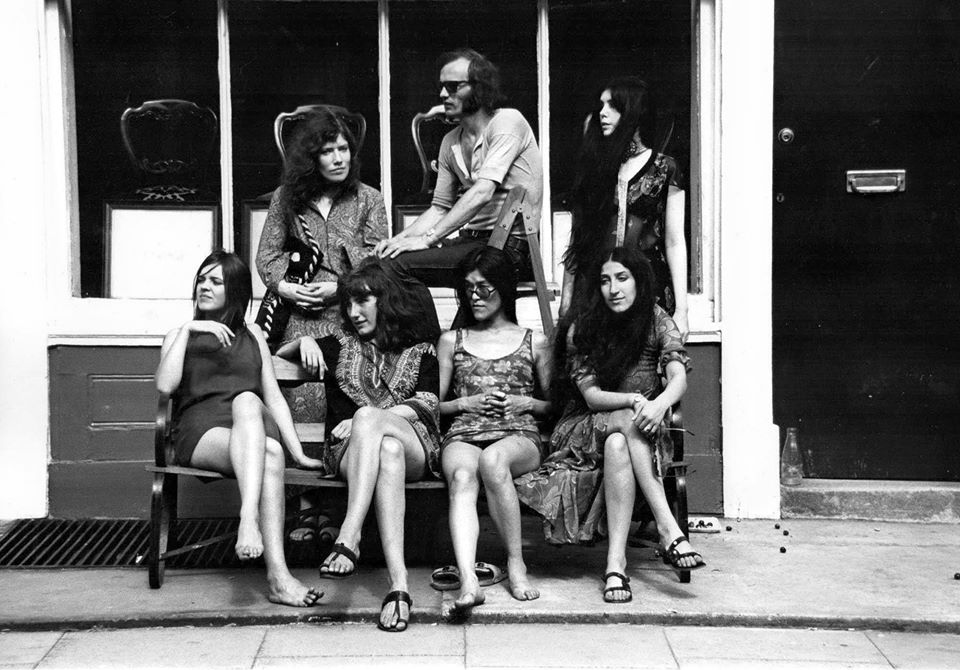 Michael Chapman Bridget St John and the Blackhill Women 1969 photo by Shepard Sherbell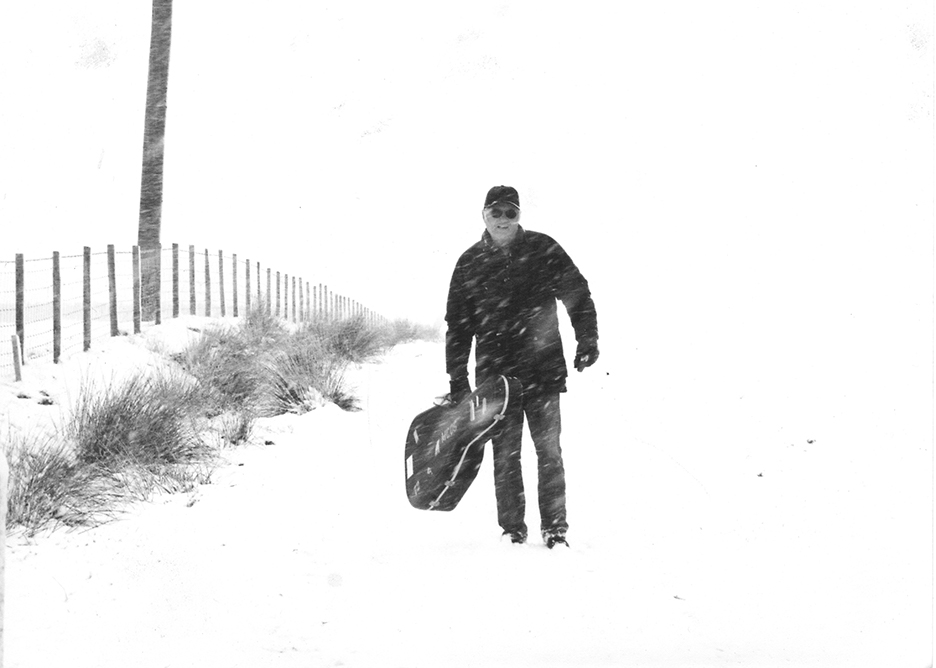 50 2017
Band songs based album produced by American sogwriter and musician Steve Gunn click here for more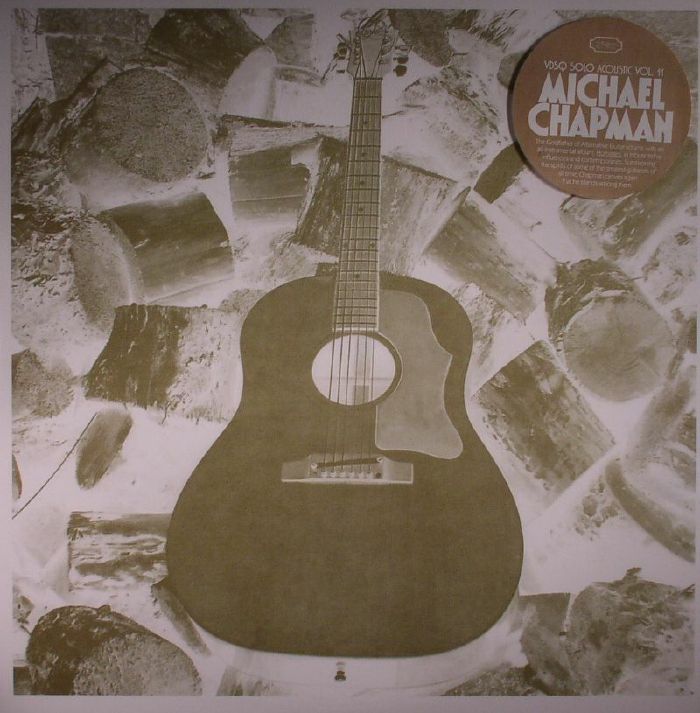 Homages
Solo guitar instrumental homages on a 1964 Gibson J50 to Michaels hero influences and contempories. Tracks for Orville Gibson, Jack Rose, Grant Green, John Fahey, Glenn Jones, Ehud Banai, Django Reinhardt and Jim Hall
Hiss Golden Messenger untitled Michael Chapman No Hat No Picture
Joint release on Vinyl with Michael Chapman and Hiss Golden Messenger recording a side each.
Michael and Sarah Smout on cello on a side that is titled no hat no picture play Another Story Michael and Sarah, The Mallard Sarah and Michael Vanity And Pride Sarah and Michael. Stockport Monday homage to Tom Rush is a different version that on Fish album.
Chapman HSS LPis available mail order from Three Lobed Records only as part of Parallelogram LP box set with other albums from William Tyler. Thurston Moore Steve Gunn and others. This represents a unique opportunity to pick up the Chapman and HSS sides on their own. LP also contains digital download code. Click here to buy copies via ebay
Very stylish cover with wallet style foldout sleeve
Well folks another year gone by and this is what's been on the Wrytree Jukebox for 2015.
Not a lot in the way of newies:
Sir Richard Bishop - VDSQ limited edition series
Low Anthem / What the Crow brings (thanks guys)
Bill Orcutt - VDSQ limited edition series
still playing after all this time:
Stars of the Lid - And their refinement of the time
Junior Mance - Junior's Blues
Crescent - limited edition

Thurston Moore and band at the Cluny Newcastle
Steve Earle and The Dukes at The Sage

Judy's back yard in Memphis with Don Nix and Danny Green and the two Judies, singing Don songs.
Cheryl Crow - Out of our Heads
Charles Mingus - Hog callin' Blues
2016 is the 50 - 75 - 50 biggie year for MC ~ his 75th in Jan, 50 years on the road with the final ever gigs at the Count House ( no he's NOT retiring) and our Golden "Wedding" anniversary in Sept. Whew- where did those years go??
"so a huge thank you to all of you that supported throughout the year, please don't stop now, we still need you.
keep music live and keep our venues open for business.
health ~ happiness ~ and peace



Our very best wishes to you all for 2016"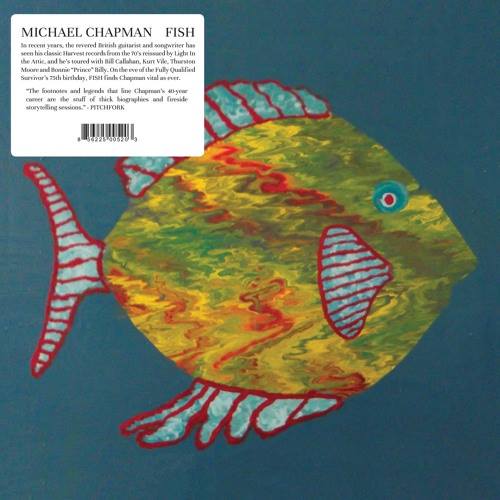 Fish
Album of solo guitar dedicated to John The Fish ( No Fishbeard Sunset Though)
Runing Order
Plain Old Bob has a Hoe Down,
Lament for Nepal,
Wrytree Drift,
This Reminds Me of You,
Stockport Monday (for Tom Rush),
Jack,
Vanity & Pride,
Ehud,
March Rain,
Nima Lama.
Some new instrumentals and some re-interpretations of a few classics. Sounds amazing. Stockport Monday is a nod to Tom Rush's Rockport Sunday a long long time Chapman favourite that Michael would love Tom to hear. Album out Tompkins Square 25/09/15 CD and LP. Stockport Monday with Sarah Smout on Cello was included on the October Uncut Magazine cover CD
News for Summer 2015 A Failure to slow down
Michael spoke excitedly tonight about his failure to slow down. He talked about the side of material he had delivered to a US label for a joint release with Hiss Golden Messenger. HGM and Michael Chapman will have a side each on this release. Also in the pipeline is an album with Michael and Hiss Golden Messenger recording together. Michael also mentioned an acoustic instrumental album in the planning stage for a US label VDSQ Records. Vin Du Select Qualitie produce limited edition albums of solo improvised acoustic guitar with releases by Thurston Moore, Glenn Jones, Bill Orcutt and others. Michael is also talking to Tompkins Square Records about a solo Michael Chapman album to mark their first 10 years. So much for slowing down then.....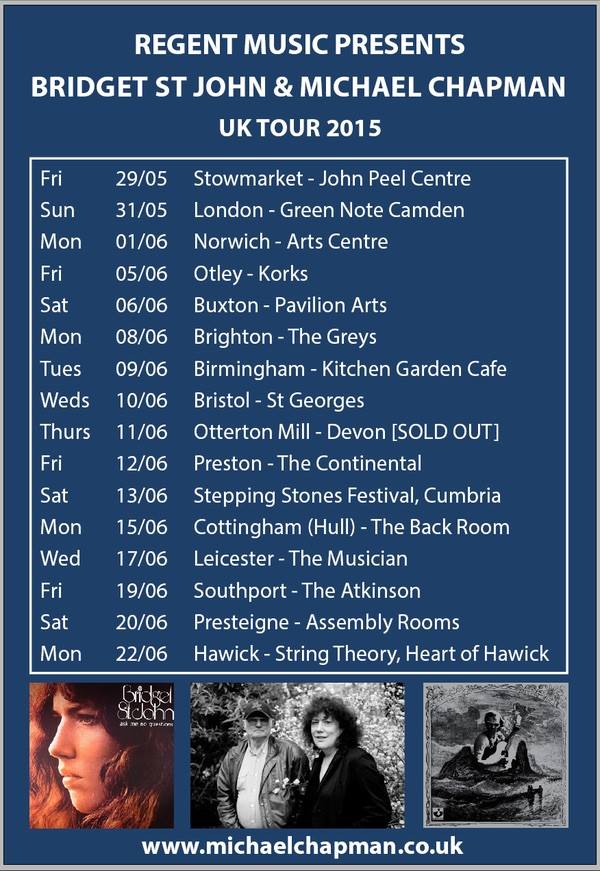 Harvey Mandel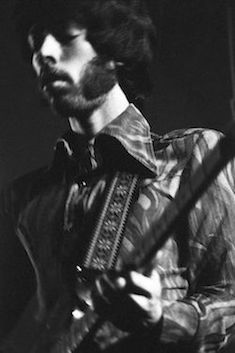 Josh Rosenthal of Tompkins Square marks the 70th Birthday of Harvey Mandel with an appreciation in Aquarium Drunkard online magazine. The piece runs from Harvey's incredible debut Cristo Redentor to his more recent birthday click here to read more
John Renbourn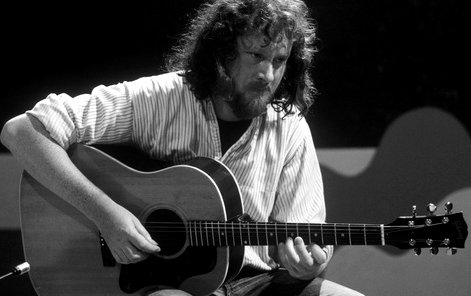 While in America Michael ad Andru were very sad to hear of the passing of John Renbourn. I am sure no one reading this page needs reminding of the impact and importance of the playing and writing off John Renbourn. Journeying from a blues begining in the clubs (Like Michael) playing with Bert Jansch, Jacqui Mcshee, Pentangle, Stefan Grossman, The John Renbourn Group, John Renbourn's Ship Of Fools, Robin Williamson, Isaac Guillory and many others. John was at the top of his game and enjoying playing with Wizz Jones. Spookily Michael and Andru were listening to John while holidaying and came home to discover he had died. John will be sadly missed.
Michael Chapman Window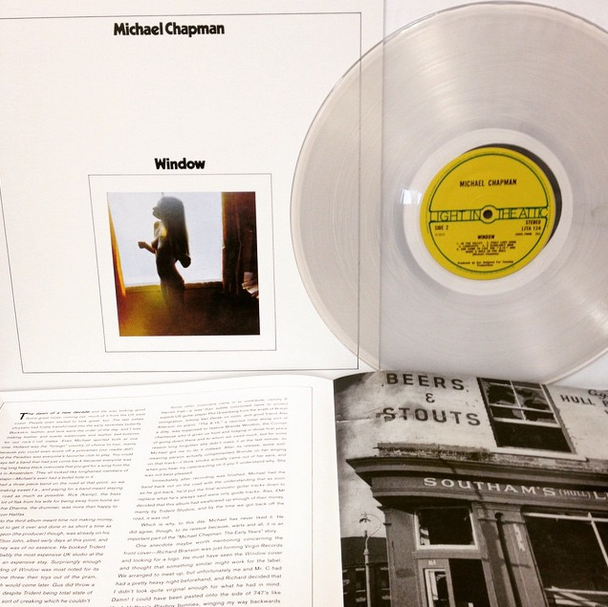 Hot on the heels of Fully Qualified Survivor and chart success EMI got Michael back in the studios, Trident no less a big deal. Sessions were laid down with Michaels guide guitar parts down on tape. To earn some money Michael took the trio back on the road in Europe, Upon his return he discovered Harvest, possibly thinking it was finished, possibly to stop him spending more money had started pressing it up and it's release was underway. Famously / Infamously Michael stepped out on stage at the Queen Elizabeth Hall lauch gig and told everyone not to buy it, somewhat eccentric self promotion even by his standards. Michael hates how it was left, unfinished. If your not Michael Chapman it sounds amazing. Chapman guide guitar parts still knock spots off everyone else. Phil Greenberg from Harvest band Formerly Fat Harry - Harold P Fatt for work permit reasons - is a great foil to Michael's acoustic. The trio of Rick Kemp, Chapman and Richie Dharma play beautifully together, the groove of Lady On The Rocks / September Song replicating their live playing.. Among The Trees, In The Valley and Scholarly Man were and are live favourites. Beautifully packaged, as always by Light In The Attic with a tasteful booklet that includes archive promotional photos.CD issue features two extra unreleased tracks. All reissues should be like this
Michael Chapman Live At The Rockpalast 1975 - 1978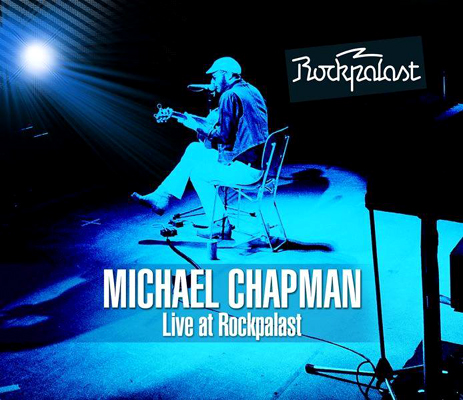 Live CD/DVD set from German TV performances is set for release in Feb 2015. Majority of live is a solo set from 1975
1975
1. Party Pieces
2. Wellington, The Skellington
3. Waiting For A Train
4. Firewater Dreams
5. Deal Gone Down
6. Sea Of Wine
7. Among The Trees
8. The Hero Returns
9. In The Valley
1978
10. Im Sober Now
11. Sea Of Wine
Also included on both CD and DVD are two tracks from what was intially a radio only show from 1978 so it looks like these two 1978 tracks are getting first their first viewing. The CD/DVD set is released by Repertoire Records who previously released a reissued Rainmaker CD. This is an exciting solo live set that will sit alongside Pleasures Of The Street and the Growing Pains Cds documenting Michael's 70s live guitar work. Waiting For A Train (All Around The Watertank) is a 1929 Jimmie Rodgers track Michael has released versions on The BBC Sessions and Sweetpowder. An occasional live track since the 60s Michael used the track as a limbering up exercise at album recording sessions with a solo version existing as part of the Window sessions Catalogue number REPUK 1257. Repertoire is a Geman label based in Hamburg CD / DVD set already listed on Amazon with a release date of 16/02/15
Dec 2014 Listening at Wrytree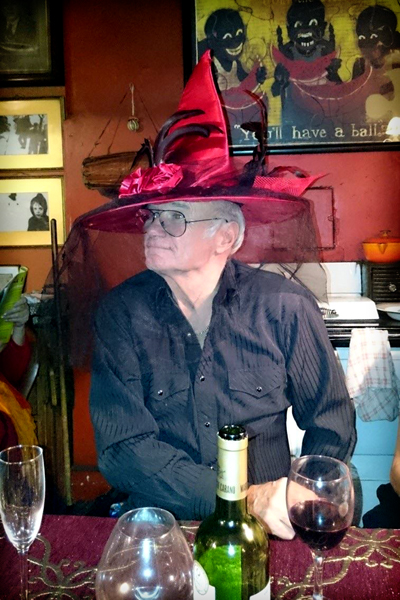 On heavy rotation on the CD player and turntable at the farm
Nathan Bowles, Nansemond - mutant banjo album
Russell Malone, Triple Play -great jazz guitar player
Bill Frisell, Guitar In The Space Age - unclassifiable guitar player sprinkles his sonic magic over classic guitar instrumentals.
Frazey Ford, Indian Ocean - Be Good Tanya's vocalist makes a Memphis album with the Royale studio band.
War On Drugs, Lost In The Dream - great rock guitar band
Adam James Sorenson, Midwest
Steve Gunn & Hiss Golden Messenger, Golden Gunn superb collaboration album from Gunn and HGS this one on limited vinyl.
Lau, Race For Losers.
turn it up - MC The Cat in the Hat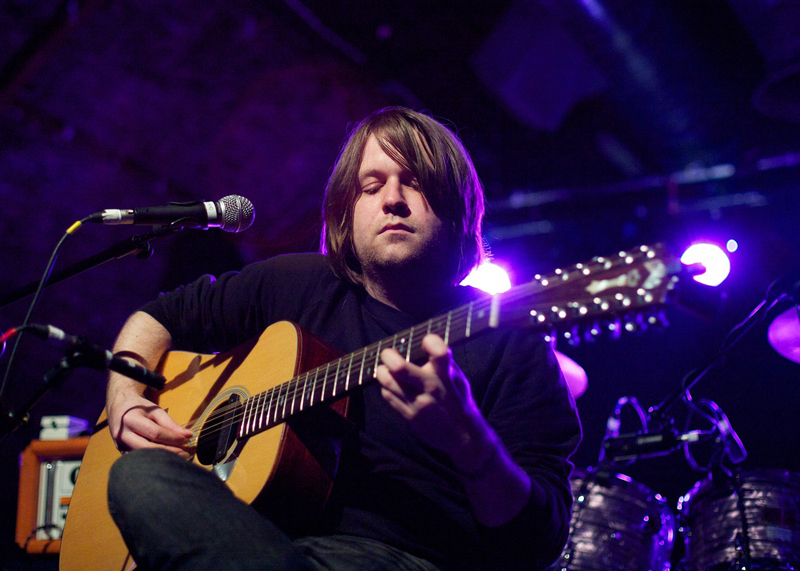 Michael Chapman & James Blackshaw - Double Header Tour December 2014
From across two generations of inspired, emotionally-charged UK acoustic composition come hugely revered Yorkshire singer-songwriter Michael Chapman and Hastings guitar polymath James Blackshaw, joining forces for a six date adventure around England in December.
It's high time these two hopped on the road together. Each deploys uses the oft-prosaic tools of folk music to construct their own transcendental, technically astounding tapestries of string and melody. Both Michael and James boast back catalogues and show histories unrivalled in their respective spheres: Chapman is the Scott Walker of the UK guitar mode, from his formative late-sixties 'Rainmaker' full-length on Harvest all the way to his latterly-formed touring/releasing bonds with Thurston Moore and output on Light In The Attic and Blast First Petite; Blackshaw has amassed a singular body of guitar works on labels including Important and Young God, throughto his recently released, Yann Tierson-commissioned ensemble soundtrack album on Tompkins Square, regular tours with Swans and as a member of Current 93. The reference points orbiting around them, both in terms of influences and those influenced, map out quite some musical galaxy: find them at the following coordinates for these six prestige occasions.
Stuart Gordon RIP and memories of Bristol Blue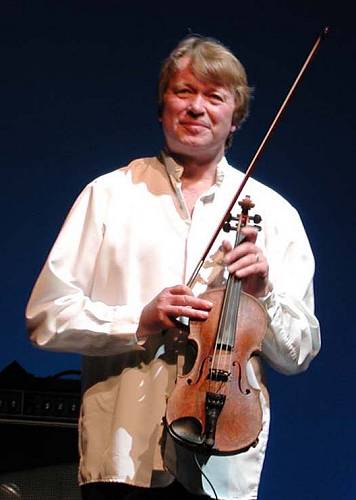 In 1991 I spent a week being a Roadie carrying things and frankly getting in the way for a Michael Chapman Trio. The trio was Michael guitar and vocals, Keith Warmington guitars, harmonica and vocals, Stuart Gordon violin. Michael called it Bristol Blue after the glass because Keith and Stuart were based in the Bristol area. This wasnt a new direction after the Chapman bands of the 70s and Savage Amusement in the middle 80s, it was three musical friends playing together for the pleasure of the moments they created. Michael put together a week of club dates on the borders and the musical sparks flew. Geordies Down The Road set staple of the late 80s crackled as Stuarts soaring violin and stabs of violin swirled around Michaels electric guitar reggae rhythmn. Keith's vocals were rich and bluesy with a masterful vocal and harmonica version of Another Man Done Gone. Sadly Bristol Blue didnt continue beyond these excellent dates, although I do have a from the desk recording, perhaps I should remind Michael of this. Keith played on Dreaming Out Loud and The Twisted Road. Keith and Stuart regularly played together locally with an electric guitar player. Stuart Gordon an accomplished musician and composer who played with everyone from Peter Hamill, Peter Gabriel to Tori Amos and most recently in a Trio with Steve Tilston and Keith Warmington sadly died this week following a battle with cancer. Stuart was a superb musician, excellent company and watching him play was a joy.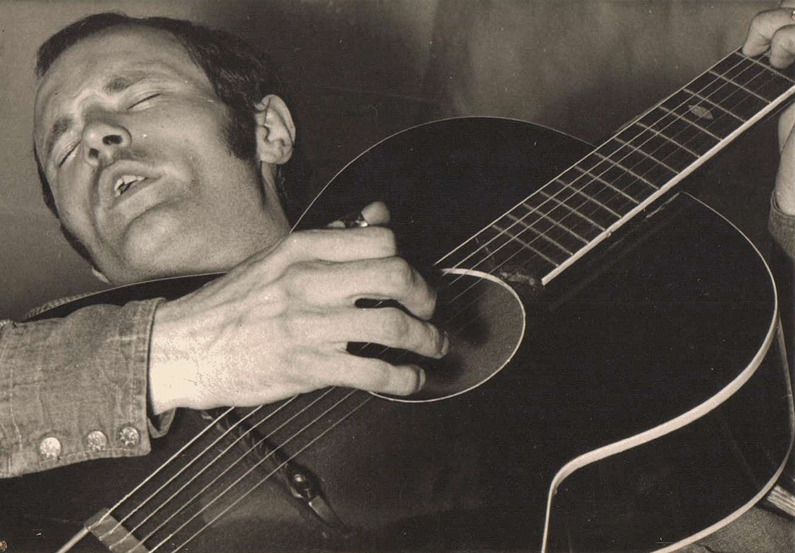 Live At The Folk Cottage
Lots of news for the Autumn of which we are sworn to secrecy for a bit yet. Safe to say might be some Christmas treats for Michael Chapman fans. Meanwhile if you havent got a copy of Michael's 1967 live recordings from the Folk Cottage in Cornwall then it is well worth checking out. Apart from the editing out of some between song tuning this represents an entire gig from only months after Michael went professional. Interestingly like the Play Guitar The Easy Way, Fully Qualified Survivor, Rainmaker and Wrecked Again reissues, The Clayton Peacock and Pachyderm, the album comes as a beautiful double vinyl LP. If you want to get closer to Michaels Folk Blues roots and missed the Cornish gigs first time around or want to indulge in some shameless nostalgia then this is a must. Pulling excellent reviews (no15 on Uncut Magazine current playlist)
buy from the good people at TreeHouse44
Re-edit of Tinkets And Rings by Bobby Lee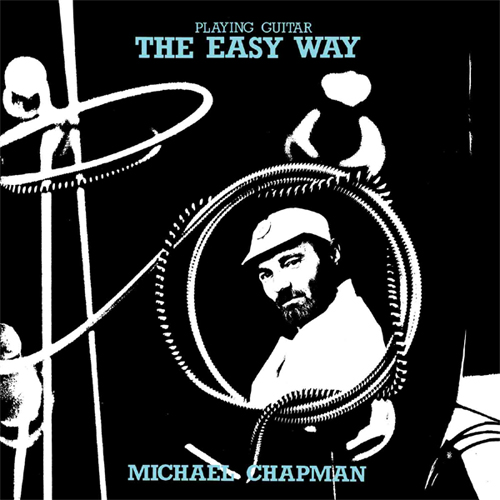 Exciting reissue on LP, vinyl with gatefold sleeve and CD with the notation booklet and new sleeve notes from Michael. One of the first Instructional albums to address different tunings. Released on Record Store Day. Instructional for players and songwriters and a great instrumental listen for those of us who dont.
Available now for listening on Spotify
MC musings on 2013

Most listened to album… Junior Mance / Junior's Blues

Best tour…Thurston tour/ Israel with Ehud Banai

Best gig…Fairfield Croydon with BJ Cole & Sarah Smout

Worst gig…Swansea Arts...sorry Swansea

High point…meeting Ehud Banai

Lowest point…didn't really have one

Biggest regret…missing the e-mail from Lucinda asking me to accompany her onstage at the Sage….shit!

Another thing ticked of the "must do" list…playing Japan

Still on there for 2014?... New Zealand would be nice

Biggest musical loss…Jim Hall (by a country mile)

Best musical find…Lisa Marie Presley

Best literary find…Garth Cartwright / More Miles than Money

Best road trip…Israel

Biggest surprise…Lisa Marie Presley

Playing on the Wrytree jukebox over Christmas/New Year …Kurt Vile : Steve Reich : Charles Mingus : Dave Alvin : Bill Frisell : Beaver & Krause : Jim Hall To name but a few

Looking forward in 2014 to…working, so please support!

And a very Happy New year to you all: Michael & Andru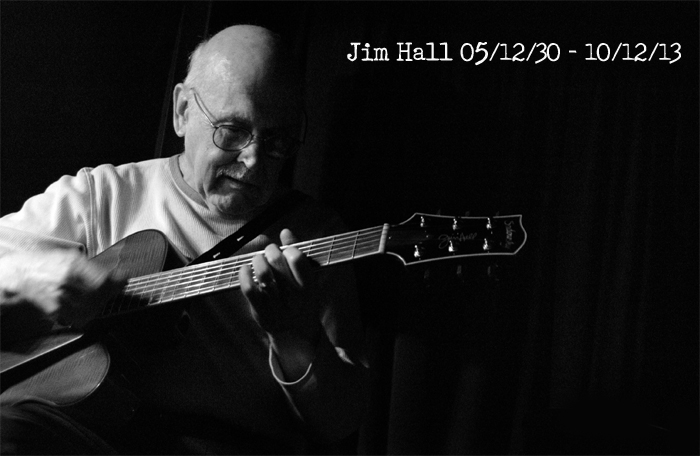 Sad news for the Chapman household with the death of Jim Hall yesterday. Still pushing the envelope up to the end. We'll be having "Jim Hall Day" at Wrytree in his memory.

Jim Hall was a huge figure in my life. Never met him, but he was someone I always wanted to be. Still wish I could play like Jim. He was always interested in what he was going to do next rather than what he had already done. Mark of a great musician.
Michael and Andru Chapman Dec 2013
Andru's 2014 fundraiser for
Cancer Research UK
Friday 7th March 2014
Centre of Britain Hotel, Haltwhistle
(01424 322422 for room reservations
dinner - auction - music by Michael Chapman
tickets £30
reservations tel Andru 07850 491309
click to andruchapman
Michael Chapman & Hiss Golden Messenger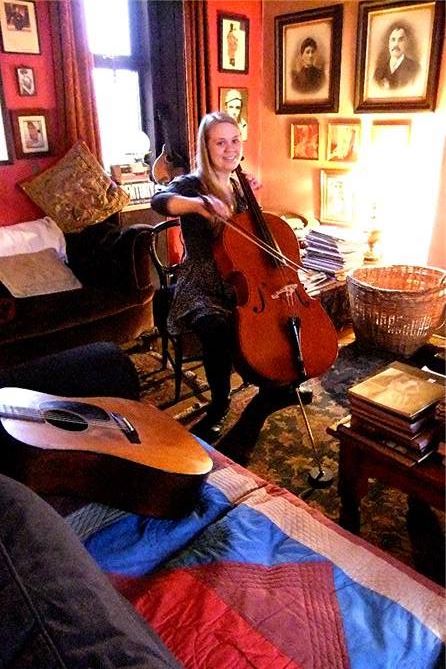 Michael has completed recording for his half of the shared album with Hiss Golden Messenger an American act who appeared on the 'Oh Michael Look What You've Done' tribute album with a storming version of Fennario. After gigging together Sarah Smout was there to add atmospheric cello. Also with their respective labels are Polarbear the third of the trio of experimental instrumental albums recorded for Blast First Petite and a set of cornish acoustic recordings from 1967. After The Resurection and Revenge of the Clayton Peacock, an exercise in improvised 'noise guitar' picking up where New York Ladies left off and Pachyderm a trance like exploration of one chord, Polarbear is a suite of shorter pieces featuring Sarah Smout's cello and a live track with Thurston Moore. What may turn out to be called Live At The Folk Cottage 1967 is a troubador in transition with Michaels entirely acoustic set of covers and instrumentals. You can hear the growing guitar sound that blossomed on Rainmaker, but apart from instrumentals the material predates Michael's songwriting. Release date and label info when we have them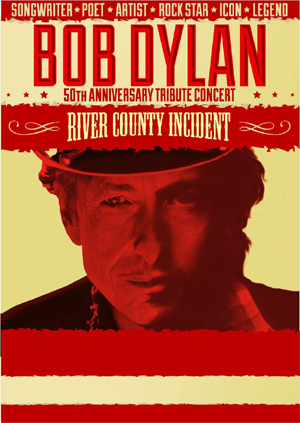 River County Incident, rather than being the name of a band is in fact a title for an evening of music that can feature a variety of musicians and an array of great acoustic instruments.Saturday September 21st sees these great acoustic instruments turn up at Lanercost Cricket Club accompanied by Matt Wells alongside long time collaborator Dave Gardner, both of Hellfire Preachers fame, to interpret the musical legacy of Bob Dylan. Matt refers to this music as "warning songs, tales of victory, evangelical chants, stark confessions and the rhythm of the wind" which all conjures up an intriguing picture of what promises to be a great evening's entertainment.
So it's 50 years of Bob Dylan music, wonderful acoustic instruments played expertly by Matt Wells and Dave Gardner ……… and if that wasn't enough, guitar virtuoso Michael Chapman is thrown into the melting pot for good measure.
What's not to like?


Bob Dylan 50th Anniversary Tribute Concert
Special Guest: Michael Chapman
Lanercost Cricket Club
Saturday September 21st
7.30pm
Tickets: £8.00 from Brampton Post Office, or David Gosling 016977 41829

www.hellfirepreachers.co.uk/river-county-incident

Playing on the Wrytree Juke box at the moment:

Golden Gunn by Hiss Golden Messenger & Steve Gunn
Limited edition vinyl released for World Record Shop Day 2013 excellent collaboration between Hiss Golden Messenger & Steve Gunn

Waking on a Pretty Daze by Kurt Vile

Analogue man by Joe Walsh

Wonderful Wonderful by Joey de Francesco & larry Coryell

Big Sur by Bill Frisell Expansive instrumental music with strings by the experimental american guitar player

Transparent Music by BJ Cole Aptly titled pedal steel ambient instrum ental music from the 80s by the man who rewrote the rules on playing the steel guitar.

The Street Swingers by Bob Brookmeyer Jim Hall & Jimmy Raney CD appearance for one of Michaels favourite jazz albums from his youth

Octet for a Large Ensemble by Steve Reich

Haw by Hiss Golden Messsenger Most recent album by MC Taylor the man who is Hiss Golden Messenger

Rumble / the best of Link Wray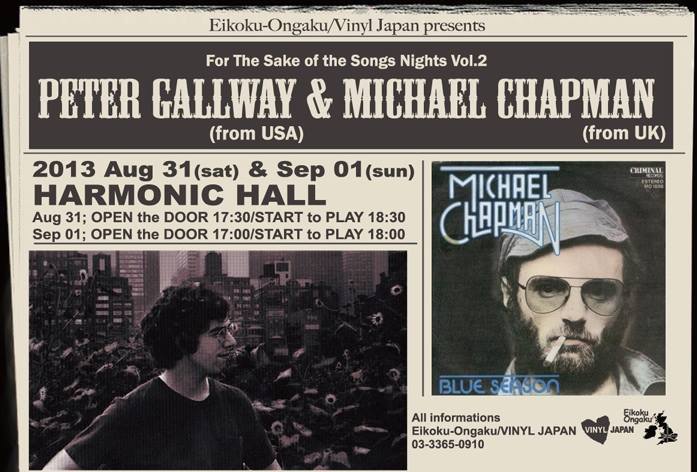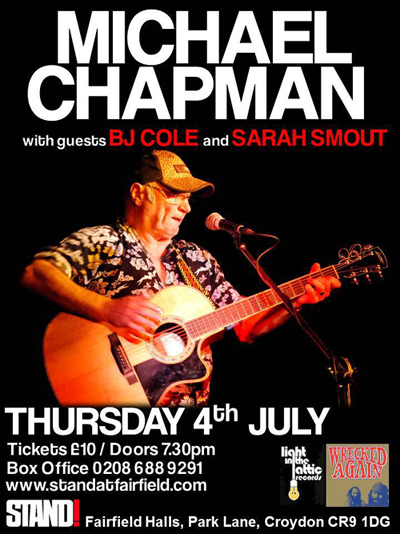 Wrecked Again with Michael Chapman, BJ Cole and Sarah Smout
Thursday 4th July Fairfield Halls, Park Lane, Croydon
ok so this is wrecked again again or a relaunch party. LIght In The Attic reissue Wrecked Again on vinyl and CD and to launch the album Michael is doing a 2 set concert. First set solo, second Michael, BJ and Sarah. If you havent seen Michael in a group then this is a must and Shuffleboat River Farewell rearranged for guitar, voice, pedal steel and cello will be unmissable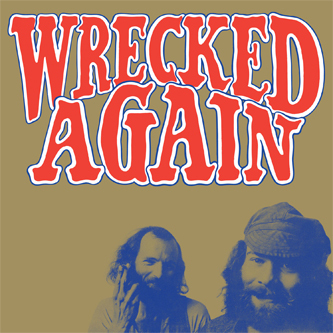 Anyone who has a copy of Light In The Attic's reissues of Rainmaker or Fully Qualified Survivor knows what wonderful things they are. The packaging, the sleeves, sleeve notes and the remastering make them essential purchases. Light In The Attic are now poised to put out Wrecked Again in July. Again this will be available on CD and vinyl LP with photos from the Chapman's own collections and notes that recount the sessions. This reissue will also feature the sleeve as it was intended with the photo of Michael and Rick that was left off by EMI. Polydor put out the album in Germany in 1971 with the correct sleeve, but otherwise this is its first appearance.Light In The Attic are an American label based in Seattle, but their catalogue is readily available via UK distributors and retailers.
Light In The Attic - Piccadily Records UK Mailorder - Boomkat Manchester based mailorder
Studio Sessions at Phoenix - Listening Pleasures
Michael recording tracks for a new album for a US label
Currently on the decks at Wrytree (in no particular order). Surprise album of the year! Lisa Marie Presley / Storm and Grace (thank you Simon), Bob Brookmeyer, Jim Hall, Jim Raney / The Street Swingers, Joey de Francesco / Wonderful Wonderful, The Blue Mitchell / Down With It, Jimmy Giuffre / Live in 1960, Earth / Angels of Darkness Demons of Light, Lucio Battista / Animalatina, 1982 + Cole / 1982 + BJ Cole, Dan Penn / Fame Recordings, Eddie Lang and Lonie Johnson / Blue Guitars Vol 1 and Vol 2
Kurt Vile, Meg Baird and Lucinda Michael Chapman
Tompkins Square Records in the US have released a limited edition 10" single with two versions of That Time Of Night, Lucinda Williams version from the Oh Michael CD on one side and Michaels solo take from Time Past and Time Passing on the other. Both versions are available elsewhere but this is a chance to get vinyl and in a limited edition 78 lookalike
Meanwhile as part of the Matador limited edition record club singles program Kurt Vile and Meg Baird release a 7" vinyl version of Michael's Just Another Story with a great shot of the three of them on the back of the sleeve. Kurt Meg and Michael played dates together in the US last year. Sadly this is already sold out, but heres to finding copies on ebay
Michael Chapman 2012 roundup in a nutshell
the highs….. and some of the lows
Best musical find :

Most listened to artist:

Best gig (seen):

Best gig (played):

Worst gig (played):

Best road trip:

Most amazing new place visited:

Best meal :

Best wine :

Best unforseen highlight:

Funniest moment

Saddest moment

Best book read:

Best TV watched:

Best new acquaintance:

Nathan Bowles

Bill Frisell

Dave Alvin at Pappy & Harriet's, Joshua Tree CA

Showbox, Seattle

Kirschberg, Austria ( I was not well)

California tour with Meg Baird and Kurt Vile

Khao Sok Thailand

The Old Bakery, Lincoln

red: Cabalie 2010 / white: Cloudy Bay

Big Bang Theory

Big Bang Theory

coming home to an empty house after weeks on the road

The Last 100 days by John Toland also More Miles than Money by Garth Cartwright (brilliant!!)

BBT

the good folks in Chicago and Minneapolis
Summing up for the year: fucking great but never been so exhausted Most looking forward to in 2013 : more of the same!
Happiness to y'all from : Michael and Andru
Michael Chapman & Thurston Moore

Michael Chapman and Thurston Moore set out on the road together for a series of dates in February 2013, opening with a show at the Purcell Rooms in London's Southbank Centre on February 1st.
For all the forthcoming dates Chapman and Moore will be playing a full set on their own before collaborating at the end of each evening's performance. It promises to be a rare treat for all lovers of classic, stylish and experimental guitar music and distinctly original song writing.
Tablature
New TEF tablature files added to the Tablature pages - thanks to Jan
String Quartet Album and Fully Qualified Survivor Concert Feb 2013
Paul Buckmaster continues to work on the string quartet arrangements for his collaborative album with Michael. Michael had just seen Paul's arrangement for Vanity and Pride. To preceed the album Blast First Petite are mooting a concert at the Purcell Rooms in London in February 2013, with half the concert being the String Quartet album conducted by Paul Buckmaster and half being a presentation of Fully Qualified Survivor. Interested in playing alongside Michael and Paul are Rick Kemp, Roy Whyke a fine drummer and Matt Wells the sharp and engaging guitar player from the Hellfire Preachers.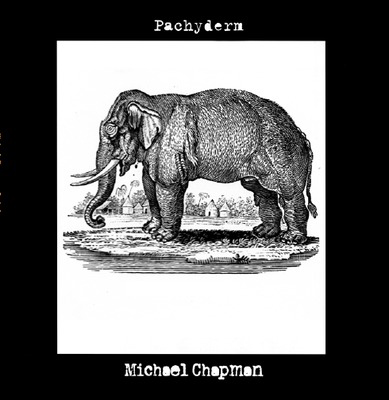 Peacocks Pachyderms and finally Polarbears
Blast First Petite who released the Peacock album are putting out Pachyderm, Michael's ideas for Electric Ladies and Naked Ragtime an album of instrumentals with each track based around a different chord has become Pachyderm an acoustic guitar album with one long piece of music in two parts based around a typical huge Chapman acoustic chord. Third album will be Polarbear with another instrumental and all three albums then available as a box set. Pachyderm is also available as a beautiful vinyl LP.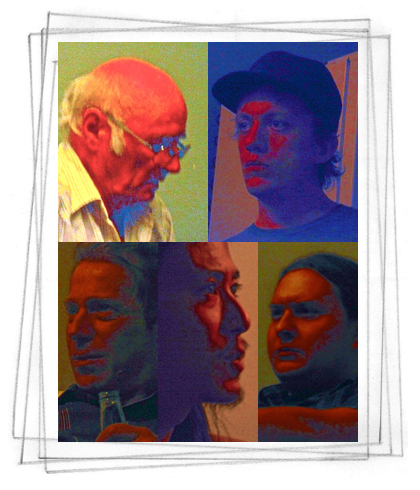 Michael Chapman and The Woodpiles. Featuring Steve Gunn, Marc Orleans, Jimy SeiTang, and Nathan Bowles.
Recorded June 19 - 20 2012.while Michael was on the East Coast of the States at the Black Dirt Studios this is an amazing set of recordings. Michael wanted the players to be the Goodwill Cowboys, a meeting of equals, the studios wanted Michael nominally down as the leader. The Woodpiles is a nod to Jack Rose who having toured the states with Michael wrote 'Woodpiles On The Side Of The Road' as he was amused by Michael's interest in well laid up stacks of firewood outside roadside houses that they passed.
The tracks have a soupy ambience that recalls Daniel Lanois, Michael wryly recalled that on one of the hottest week of the year the air con had failed in the studios and the languid pace reflected the thick heat in the room.
Plans are to release an album once the ensemble have recorded a few more tracks, but there are no firm plans for a session yet as all the musicians need to be in the same placer at the same time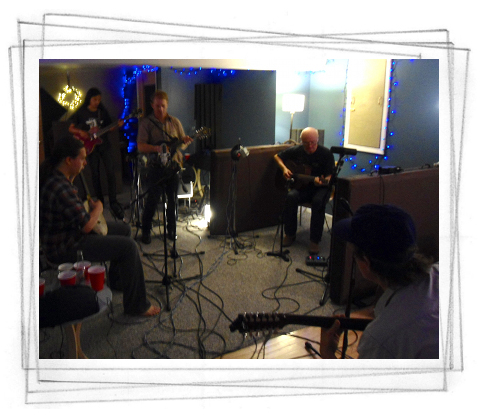 Live In Cornwall 1967-1968
Some more auddience recordings of Michael live in Cornwall in the late 60's. This is a CDR of recording from Pipers Folk Club and The Counthouse. We are hopeful to get some kind of release for these, either on Rural Retreat or on a reissue label.
Plaindealer on LP released in USA
Remember all those articles about the death of vinyl, well if you needed to be told, the truth couldnt be farther from it. Light in the Attic have re-released Rainmaker and Fully Qualified Survivor on LP, 'Peacock's' 500 vinyl copies on Thurston Moore's Estatic Peace label are now very sought after. Now the US Mystra label are putting out Plaindealer on vinyl. The 600 copy pressing have a wonderful interpretation of the original cover that is hand coloured , letter pressed and silk screened. Michael is particularly impressed with the look of it.

LIner notes by Thurston Moore and Charles Reynolds

mailorder in the UK (www.volcanictongue.com)

mailorder in the US

(http://www.eclipse-records.com/)
(www.midheaven.com)

TELEPHONE CONVERSATION between Gary the Dealer (A) & Hereanonymous the record junkie (B):
B) Lookin' for more English guitar & song writing intensity".
A) What are you into so far?
B) Been listening to 70s British prog and psych stuff for years, but been listening to a lot of crossover folk guitar shit now
A) Acoustic or electric?
B) Well, I've been digging Roy Harper & John Martyn, and Thurston Moore's acoustic outings the past few years have been blowing my mind.
I like acoustic with a lot of slide or effects.
A) Ever listened to Michael Chapman?
B) You mean that guy from Family that sounds like a pig getting slaughtered?
A) No, no that's Roger Chapman, I'm talking about Michael Chapman. He's one of the great transformational British guitarists of the past
45 years & was on major labels in the 70's.. both EMI Harvest & Deram… He's still making killer music today.
B) Never heard of him. Did he play in a band?
A) Nope, just solo albums, but was often backed up by great musicians. Tends to jam out his songs or trance you into a haze of guitar sounds,
sometimes with intricate instrumentals & lyrics & vibes that you swear you've been there before
B) Sounds pretty cool... You got anything in stock? I want records man, preferably gatefolds…. None of that CD crap.
A) We just got a recent one of his in on vinyl, called "Plaindealer". It came out on CD a few years ago but is just out on vinyl for the
first time. No gatefold, but the music is kick-ass. Great songs. Some great musicians backing him up, but mostly it's Michael. I can rap
about him for hours but....
B) Go ahead. I need a new music fix man! I've been back into the Pink Fairies "Neverneverland" and Kevin Ayers, "Whatevershebringswesing"
endlessly for the past week & I need something new
A) Chapman's one of those guys who you listen to the first time, after about 5 minutes, you say, "Why the hell hasn't this guy been on my
turntable!?" And this album rates. He's a singular British dude who captures the shimmering desolation of Americana from the depths of a
bottle & takes you on some amazing & weird trips with his tranced out slide guitar & imagery that veers off into some real deja vu inducing
excursions. First he comes up with some explanations for life that you really wish you could have put into words yourself, then seconds
later you're off into another 'guitar galaxy'. You think the songs are headed into a predictable realm, then another layer is added or
things get totally intricate or filled with intense waves of sound. Or you totally might start time tripping & suddenly two minutes have
gone by and you've been travelling in some washed out part of your past where you left behind a piece of your heart, an empty bottle, and
your car in a ditch
B) Sounds like I should definitely check it out. Can you hold it for me? My mom's goin' to give me some cash for my birthday next week(Gary's
turning 54…)
A) No problem man, I'll put it in your hold pile. It'll rock your world. "- charles reynolds


"All I know is that i was BLOWN AWAY by Chapman. I didn't know his LPs or tunes, i just knew he was considered to be one of the 'greats'...Long stretches of clawing, flipping digits from one burning line to the next, all the while kinda hooting vocally along with a snort and a smile...each jam more deadly then the next. Which TURNED ME THE FUCK ON as much as any holy shit..." - thurston moore
Chapman's Choice or whats on the stereo at Wrytree Farm
On heavy rotation on the stereo at the farm, in no particular order are Staple Singers: Too Close, John Jacob Niles: an evening with ..., Eliza Shaddad: January- March (click here), Meg Baird: Seasons on Earth, Charlie Parr and the Black Twig Pickers : Glory in the Meeting House, Marc Ribot: Spiritual Unity, Daniel Land: Live at The Lexington London (bootleg), John Fahey: Hamburg '78, preview copy of "Oh Michael look what you've done" / Various Artists (due out May 29th on Thompkins Square records/US), Black Keys : El Camino, Gorecki: 3rd Symphony
Oh Michael Look What You've Done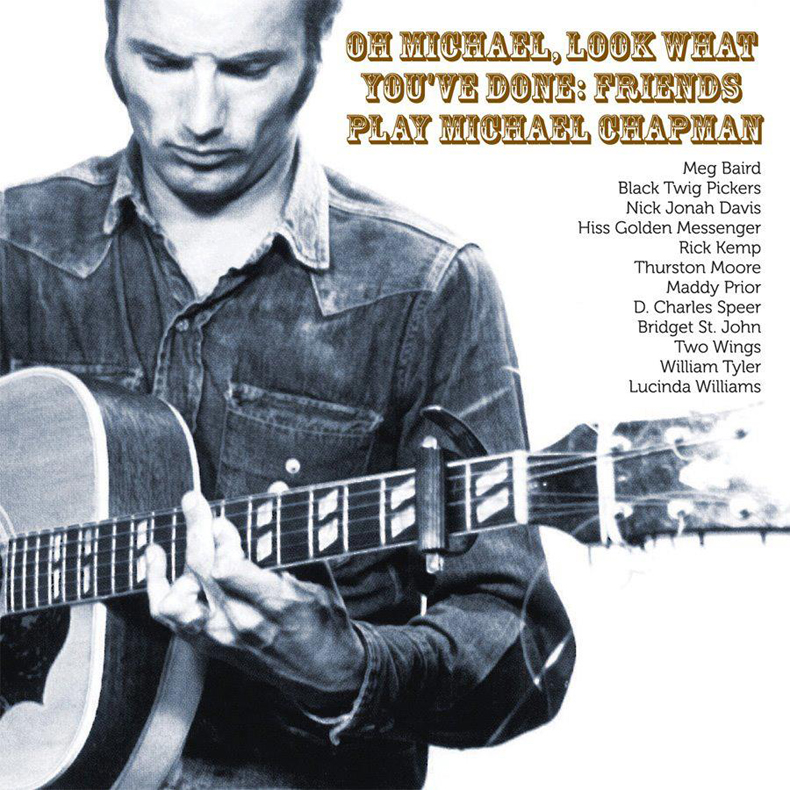 Tompkins Square in San Fransisco release on 29th May Oh Michael Look What You've Done friends playing Michaels music. This is a ammended version of the Birthday album recorded for Michael's 70th birthday. Compiled by Tompkins Square's Josh Rosenthal. This is a different album to the Birthday album with half of the twelve tracks being specially recorded for the Tompkins Square release. Of the new tracks Nick Jonah Davis' version of Little Molly's Dream, Meg Baird's No Song To Sing and Lucinda Williams' That Time Of Night are already getting heavy rotation in our house
Meg Baird, No Song To Sing
Songwriters Circle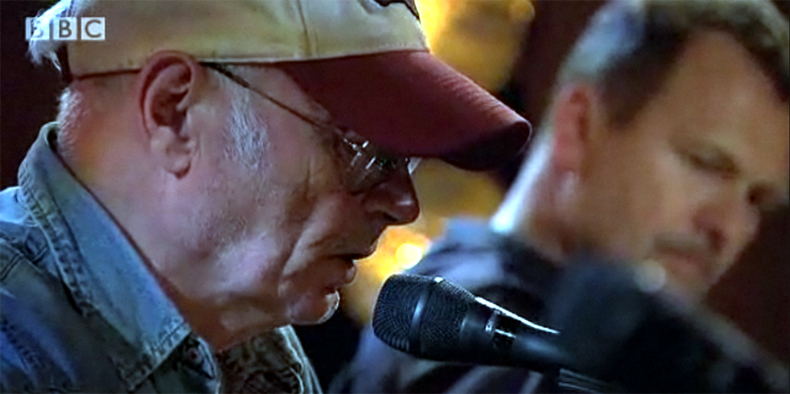 At long last have a broadcast date for the Michael Chapman Martin Simpson and Steve Tilston Songwriters Circle gig - taped in December. It will be on BBC4 on Sunday 18th March. Here is a link to the Steve Earle gig taped on the same night (http://www.bbc.co.uk)
Chapman's Choice or whats on the stereo at Wrytree Farm
On heavy rotation on the stereo at the farm, in no particular order are, Stars of the Lid / And their refinement of the Decline, Karen Dalton / Green Rocky Road, Blue Note Compilation / Hip hammond & Soulful Grooves (thank you Jonathan), Dean McPhee / Brown Bear, The Louvain Brothers / Satan is Real, Vetiver / The Errant Charm, Meg Baird / Seasons on Earth, James McMurtrey / St. Mary of the Woods, The Julian Lage Group / Gladwell, Kurt Vile / Smoke Ring for my Halo, Billie Holiday / Lady in Satin
Michael has always been a huge jazz fan and player as demonstrated by the funky Blue Note compilation and the lush Billie Holiday album. Dean McPhee played with Michael at the Resurrection of the Clayton Peacock gig in London and is an exciting player. Karen Dalton, The Louvain Brothers, Vetiver, Meg Baird, Kurt Vile and James McMurtrey show his deep interest in American music old and new
Rainmaker 2012 Still Making Rain
New reviews of Light In The Attic's reissue of Rainmaker click to view
Michael Chapman, Dean McPhee and Daniel Land @ Lexington, London 29/01/12

At the age of 71, Michael Chapman is in sharp mind and defiant mood. "Tonight will finally put to rest this idea that I'm a fookin' folk singer", he snaps, with dry humour. For the collaboration with guitarists Dean McPhee and Daniel Land that 'recreates' The Resurrection And Revenge Of The Clayton Peacock, Chapman's first album of improvised noise from last year and concludes this compelling concert, the trio claim to have had a mere half an hour of rehearsal time.

This is Chapman, encouraged in the first instance by Thurston Moore (who released the first limited vinyl run of Clayton Peacock), exploring the contours of spontaneity and interaction, in a remarkable late blooming of creativity. As a result of this, he is reaching a whole new audience. His previous work as both folk singer and composer of music for solo guitar is at last being made widely available and getting its due appreciation.

Before the closing extravaganza though, Chapman and special guests Dean McPhee and Daniel Land perform short sets of their own. McPhee's opening performance is magical, with a swathe of reverb turning the sound of his lone electric guitar into something sepulchral and imposing. In a set that is sadly all too brief, we get an impressive snapshot of McPhee's artistry - there's one track from his excellent Son Of The Black Peace album and one from his Brown Bear EP as well as a clutch of new compositions that seem to further develop and enhance his playing style.

The new material ('Evil Eye' especially) has a rolling, rhythmic quality to it - a greater urgency than his more contemplative pieces. What also really cuts through in this performance is McPhee's incredibly strong melodic sense. This music is about a good deal more than the reverb-soaked atmospheres McPhee creates. The chiming, crystal clear attack of McPhee's melodies are occasionally reminiscent of Patrick Patterson from the great Cymande, although this is of course a very different context and it would be surprising if McPhee had even heard that band. There's one lengthy new piece (which might be called 'Fatima's Hand') which also shows McPhee's fluency in his exposition of his themes. The older compositions ('Star Burial' and 'Sky Burial') bookend the set and demonstrate McPhee's skill in establishing mood and atmosphere.

Daniel Land approaches the guitar more unconventionally, often abandoning correct techniques altogether in his search for ever more fuzzy and disorientating sheets of sound. Much of this seems to be down to his combination of added effects. It's briefly mesmerising, and provides for an intriguing contrast with the more studied approaches of McPhee and Chapman.

Chapman's solo set is even more mercilessly concise, but within its short time span is a wealth of wonders. Chapman's dexterity remains peerless and he has delved ever more deeper into the sound of both the blues and the Takoma school of guitar players (John Fahey particularly). A wonderful moment comes when Chapman uses his wedding ring as a slide. The music is somehow both graceful and attacking - full of spirit, exuberance and feeling.

Inevitably, the advertising of this gig as Michael Chapman plays ...Clayton Peacock turns out to be somewhat misleading. It is of course completely impossible to recreate a single piece of improvised music that exists only once. In actual fact, this intriguing collaboration deftly balances the contrasting styles of Chapman, McPhee and Land and takes a rather different direction away from the sound of the album. Tonight's music is less abrasive, but no less engaging, travelling through a satisfying variety of textures and moods.

Of the three, it is Chapman who plays most conventionally - anchoring the improvisation in his own inherited musical language. He plays recognisable chords, as well as returning, with brilliant results, to a surprisingly groovy ostinato bass figure. This rhythmic impetus drifts in and out of the ether. Too often, this approach to improvisation leads to the conscious abandoning of rhythm as a musical element. It seems that Chapman has recognised that this can often result in a musical cul-de-sac.

Given the excess of effects being utilised, it's remarkable how well blended the three musicians are. What could come across as a confrontational exercise instead becomes a moment of mutual exploration. Having said that, it all ends with one final flourish of feedback - a tinnitus-inducing reminder of Chapman's defiance.

Daniel Paton www.musicohm.com

Following the excitement around Michael's improvised noise album for Thurston Moore's Estatic Peace label in 2011, the Blast First Petite label are giving it a UK CD release. To launch the CD Michael is doing a showcase gig at The Lexington in London on the 29th January 2011. This will be a truly unique gig as Michael Chapman, Dean McPhee and Daniel Land will be recreating the Resurrection side of the LP live, obviously as this is essentially an improvised gig anything may happen

Keef Hartley 1944 - 2011 Drummer Bandleader and Undersea Explorer

Keef Hartley drummer with Rory Storm and the Hurricanes, The Artwoods, John Mayall with his leaving of Mayall's band importalise on the Halfbreed track sacked. Keef played in Michaels live band during the 70s, immortalised on Pleasures of the Street and And Then There Three.

Keith also played on Millstone Grit , Savage Amusement and The Man Who Hated Mornings. On Savage Amusement an accurately titled album, the sessions at Sawmills Studios in Cornwall were peppered with some heavy duty partying. Bored while Michael layered guitar parts in the studio Keef went for a walk by the river. Somewhat distracted he walked off the end of the jetty into the Foey. His undersea exploration was curtailed before he slept with the fishes by Rick Kemp who glancing out of the studio window saw him tumble in, effecting a brisk resue dragging him out by top of his jacket.

Keef was, Michael once commented, a listening drummer a creative and lively player. Anyone needing proof should listen to the driving rythmns on Savage Amusement tracks like If Didnt Work Out or Stranger. Check out too his Keef Hartley big band albums, great slabs of 70s rock given a jazzy dimension.

A legend . Goodnight Keef, another man done gone

| | |
| --- | --- |
| | |
| Dogs Got More Sense 1975 | Secret Of The Locks 1976 |
Songwriters Circle BBC4 11/11/11
Michael Chapman, Martin Simpson and Steve Tilston played an amazing an intense set at Bush Hall Shepherds Bush London. The three took it in turns to perform, Michael's songs included Memphis In Winter and Postcards of Scarborough, Martin's Never Any Good and Love Never Dies and Steve's The Reckoning. Michael Martin and Steve presented a compelling set that emphasised the common threads in their songwriting and inspirations. So Love Never Dies writteon around a conversation with a country guitarist in a truckstop was followed by Michael's Just Another Story written watching a waitress in a Memphis diner. What made the concert so unique was the interplay between three guitarists and writers, some songs were played by duos and what sticks in my memory is the three playing together on Just Another Story with Steve's guitar harmonics and Martin's distinctive slide building an atmosphere around Michael's acoustic and vocal. A memorable gig, one of the best of the 100 plus Chapman gigs I have seen, possibly one of the best gigs I have ever seen. Michael Martin and Steve's Songwriters' Circle is scheduled to be shown by BBC4 early in 2012 should be one hell of a show
's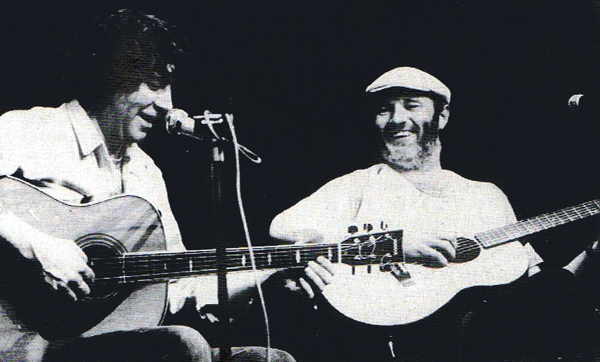 Bert Jansch 03/11/43 - 05/10/11 RIP
"I once did climb the mountainside, did swim the silvery sea, I once did court the moonbeams but now I have clipped my wings"
Bert Jansch, guitar player, songwriter, singer and legend died earlier today following a long battle with lung cancer. Bert will be remembered for his distinctive and influencial playing, his languid vocals and a wonderful legacy of songs - some like Needle Of Death are already folk standards. Solo or as a member of Pentangle with whom he played through the 60s, early 70, 80s, 90s and recently again, he was a stunning and maverick performer. After a period of mutual admiration Bert and Michael toured together in the mid 80s. Distinctive players, world weary vocals, anthemic songs and an undeserved reputation for being a bit grumpy, they had so much in common. Goodnight Bert you will be greatly missed
The Resurrection and Revenge of the Clayton Peacock on CD
Blastfirstpetite a UK label are set to give Resurrection and Revenge a UK CD release in Feb 2012. Also Michael is talking about a Peacock tour with himself and Dean McPhee an excellent experimental player on guitars and Alex Warnes on electronics.
Rainmaker and Plaindealer re-releases
Rainmaker is set for a February 2012 re-release on Light In The Attic, Michael has just heard a CD of the remastering and is very excited about how mucsh they have wrung out of the original tapes and how good the album sounds. He professes to never being a big fan of rainmaker but being very impressed with the sound of the vocals and the guitar. Plaindealer is coming out as a limited release on vinyl with a handcoloured silk screen cover more news of this when we get it
Michael Chapman & Paul Buckmaster Album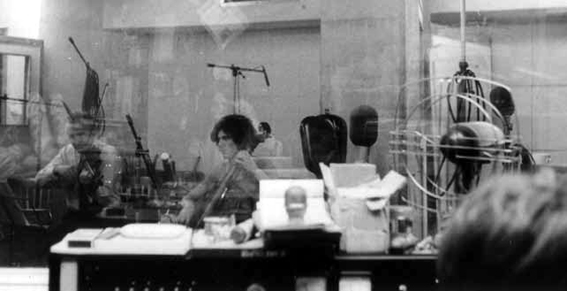 Paul Buckmaster FQS sessions 1969
After a reconnection in the States this summer, the first since the Wrecked Again sessions in 1971 Michael and Paul are recording together again, Michael has just completed his guitars and vocal tracks of some classic songs and tunes. These sessions are now in the hands of Paul on the west coast of America who is going to write and record some string arrangements. Paul Buckmaster was the man behind the beautiful and yet often edgy strings on Fully Qualified Survivor and the fuller Memphis Brass and Strings on Wrecked Again. Michael is very excited to be working with Paul again, Buckmaster has just finished working with Burt Bacharach and although not usually a fan of strings (other than Stan Getz's string albums and Fully Qualified Survivor) I am very excited about the results
MH 2011
Michael Chapman's latest foray across the pond. US Tour June 2011
This particular tour embarked in the Union Chapel in Islington on the 31st. May playing support to fan and fellow journeyman Thurston Moore, and docked finally three and a half weeks later in Seattle opening for Bill Callahan on the final west coast leg.
There were some memorable "firsts" along the way- first gig in Nashville, first time to stand on the stage of the iconic Troubadour in LA in front of a sell out crowd, first trip down Tornado Alley, some sad events like when William (Tyler) had to bail out on the first leg of the tour due to a tragic family bereavement – there will be more chances for these two to get together again for sure, - some frustrating times like trying to beat the whole Chinese nation onto the China town bus down to Philly (and failing), some bemusing times like "why is Thurston roadie-ing for me but thank you all the same, it's much appreciated".
In addition to some great venues (the chicken coop in Louisville being just one) and some fantastic receptions and reactions, this from Matt at Light in the Attic who'd never seen Michael perform before: "Wow! Last night was incredible. I'm having a hard time putting it into words. I'm currently sober and feeling a very strong high from the memories of Michael's set last night. What a show!
I just dropped him off with Callahan's band so they're on their way to Santa Barbara. I read him the message from Lucinda as well." (this was Lucinda Williams who unfortunately couldn't make the night)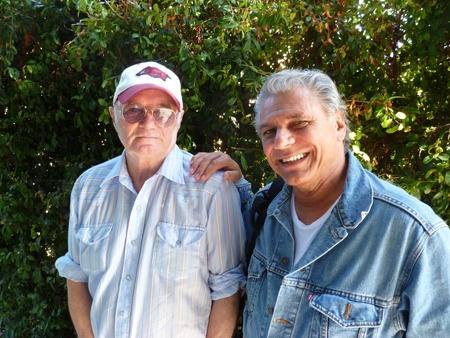 There was the first meeting since 1971 between MC and Paul Buckmaster, who did those fabulous string arrangements on FQS and Wrecked Again. Paul has lived in LA for some time now and is still very active in the music business over there. Their meeting was recorded and will be available soon for download (keep an eye out for this) and also there may well be another musical collaboration in the offing if their thoughts about doing an album together come to fruition. Again, watch this space. The trek out to the west coast, unlike back in 1971 when MC aborted and flew back to the UK vowing that he was out of the music business for good but was coaxed back in the very next day when he was offered a tour with the Everley's starting - the very next day, was his first time back there since 1981(these increments of decades seem important) when he did a mini tour with the late John Fahey which culminated in "Fahey's Flag" and all that that entailed.
So to tour the whole length of the west coast and with such a stunning performer as Bill Callahan and his tow brilliant musicians , felt like real progress in the grand scheme to win the hearts and minds of the U.S.
He certainly made a whole wad of new friends and fans on this tour and with two record companies solidly behind him it almost certainly wont be long before he's back.
There are several musicians who would like to tour with MC next time round but this reaction from Devendra Barnhart is probably one of the more extreme:
" are you kidding? im a HHUUUUGGGEEE FFFAAANNNNN of Michael Chapmans!!!!!! I LOOOOVE HIIIM SOOOOO MUUUCH! playing with him would be a dream cooome truueee of the highest order!!!!!!!! i dont have any shows planned other than festivals cause i have to make my record but when we tour the new one i will DEFINITELY BEG him to play with us! WWWOOWW!!! PLEASE keep me updated with what hes up to!!!!!! THANK YOU SOOO MUUUCH! wow...."
I think that's a "yes" then? So Michael is back, minus guitar, which is still circling the globe as we speak and with four days to get his head on the right way round and hopefully be reunited with said guitar before he's off on another UK leg. The FQS is having a bumper year for his 70 th birthday celebrations. Long may it last.
Light In The Attic Records Tour Blog
Collectables of the Future - Wrytree Drift
Wrytree Drift is now on its third cover. Michael went off the original 'homage' to Parchman Farm with him as a grizzled convict against a sun bleached wall, declaring that rather like 6.15 off Window with Gus Dudgeon's belch and the group vocals somethings seem like a good idea at the time. The second version of the cover, a shot of Michael with guitar in his front room looks like being the rarest, only surving for about two months. Version three is jus t Michael Chapman in an antique font with the Wrytree Drift sign Michael liberated from the mine and a super stereo tag that is reminisant of Atlantic Jazz Lps from the 60s.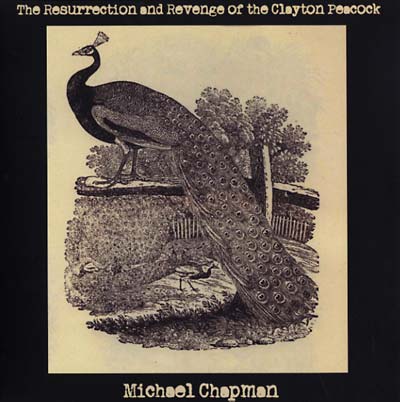 Michaels improvised 'noise' album for Thurston Moore's Estactic Peace label is available now. The album comprises two tracks side one Resurrection and side two Revenge. The music is instrumental, loose and quite unlike anything else he has done before. The album is a limited edition release on vinyl with ony 500 copies. There are copies available via the internet in the US, but as yet no UK stockists - Michael has some copies and may be selling these at his UK Summer gigs.
Collectables of the Future - The Resurrection and Revenge of the Clayton Peacock
June 6th 2011 Update - looking at how these were being snapped up by vinyl fans at the Thurston Moore gig in London this seems set to be one of the collectables of the future. Apparently the label in America is sold out of copies. It was a limited edition of 500 individually numbered copies so there are no plans to repress or do a 2nd edition. Michael apparently has the option of doing a CD release in the UK more of this later
Michael Chapman and William Tyler
After the Bob Harris session in December 2010, Michael went into the Maida Vale Studios in April during his tour with American guitar player William Tyler to put down some duo tracks for Late Junction the award winning and genre straddling Radio Three music show. Late Junction had been big fans of Michaels Americana 2 album, with presenter Verity Sharp playing tracks like La Madrugada. This session is available as a listen again via the BBC Iplayer and will be available as a podcast download all via the Late Junction page on the BBC website
March 2011 Press Release
Follow this link to open or download March 2011's Press Release
Follow this link to open or download a PDF flyer that collects together all of Michaels dates for 2011
Fully Qualified Survivor USA reissue update
West coast reissue label Light in The Attic Records have reissued a beautifully packaged version of Fully Qualified Survivor. The classic album is available on vinyl and CD both in a great silver version of the sleeve that Michael himself is very chuffed with. The booklet notes are great and include some otherwise unseen session photos. Spectacularly HMV in the UK are doing it for £8.99 with free postage which is a steal for a LP. Interestingly the vinyl version features the Harvest logo like the original issue - bound to course problems for collectors in the future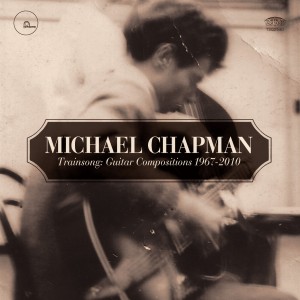 Trainsong 1967 - 2010
Added to the CD review pages are the first impressions of Michael's Trainsong album. Impressions seem to confirm what we have known along that Michael is a distinctive guitar player who writes and records fine tunes. CD reviews
25th January is the release date for Trainsong 1967-2010 on Tompkins Square the New York label famous for its promotion of inspirational music. The album features solo guitar recordings of classic Chapman instrumentals like Thank You PK 1944, Sunday Morning, Little Molly's Dream, Theme From The Movie Of The Same Name, Naked Ladies and Electric Ragtime and La Madrugada. The album is lavishly packaged with great photos and sleeve notes by Charles Shaar Murray and annotation and tuning notes from Michael himself.
Tompkins Square Label website - amazon.co.uk - HMV
24th Jan 2011 is Michael's 70th birthday a fact found remarkable not least of all by Michael himself
Sat 29th Jan is his "official" party and if you'd like to wish him Happy Birthday in person then all you need is a bottle of something decent
"course then you'll still have to find our place" Happy New Year Andru C
The Resurrection and Revenge of The Clayton Peacock
Michaels improvised 'noise' album for Thurston Moore's Estactic Peace label is recorded and will be released early in 2011. The album comprises two tracks side one Resurrection and side two Revenge. The music is instrumental, loose and quite unlike anything else he has done before. The album is a limited edition release on vinyl - more information when we have it.
weblink - no news on the site yet about a release date though
Veritie Alexandra Sings Michael Chapman
Veritie who sang on Navigation is part way through recording an album of Michael Chapman songs. Backed by Michael himself and Alex Warnes the album features some of Veritie's favourites with some superb playing and interesting arrangements. Album will be available from Michaels website in spring 2011. Album now released and available via webshop
Acoustic Magazine Article
Friday 17th December: Acoustic Magazine published, major article on Michael Chapman http://www.acousticmagazine.com

Bob Harris Sunday Morning Show 12am -3am 7th December 2010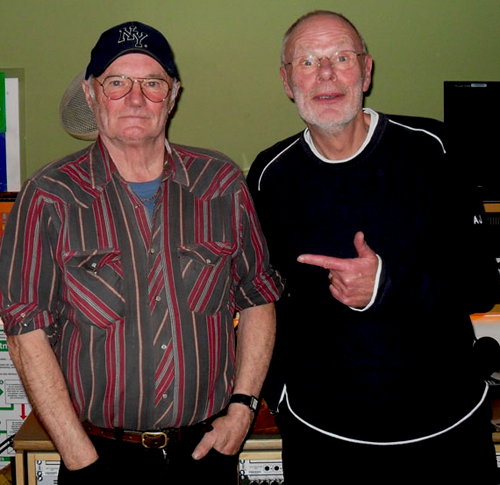 Michael & I traveled to London in horrendous weather on Tuesday afternoon to record a live session for The Bob Harris show for transmission next Sunday morning. Despite the cold and the snow and a canceled train, we arrived at BBC R2 studios at Western House on time at 5.30 pm The recording began at 6pm and lasted and hour.

Bob's producer Mark Simpson, his engineer George and production assistant were totally amazed at Michael's musical skill and his guitar playing. At one point George stood up and looked through the glass into the studio and remarked that he had never seen anyone tune up while playing. They were all surprised & just could not understand that Michael wasn't being double tracked on guitar & wasn't using any effects. Mark expressed regret that he was not more familiar with Michael's music and asked me which albums he should buy straightaway. Michael played 3 very long and totally perfect versions of three of his songs ,
Memphis in winter

After all This Time

In The Valley
He talked animatedly and amusingly with Bob for the best part of an hour. It really was a great interview and Bob was very pleased with the result.

So you are really in for a treat on Sunday morning if you can find the time to listen, which I urge you do, or listen on line using listen again; or even on your digital radio on PVR if you have one .

MC & I then went for bite to eat before getting on a train at 9.30. Little did we know what was in store.

The return train journey was quite an exciting and entertaining one: leaving Kings X We travelled quickly through the arctic waste that now stands either side of the east coast line and arrived in just under an hour at Peterborough where we were told the train would be delayed due to the carriage doors having frozen up and being impossible to open. After a 15 minute delay we proceeded to Grantham where the problem was even worse and a man with an axe was seen using it to free the doors from their icy grip. Unfortunately the doors then froze open and we endured another delay. The snow was coming down thick and fast and the train announcer told passengers for Newark and Lincoln and Hull that no onward transport of any kind, train, bus or any kind of road vehicle, would be available for them from Newark and that they might be better off going back to London. In any case they were asked to get off there and then and get on another train that was approaching the station as ours would be delayed until the doors were fixed. They were offered a hotel in Newark. No mention was made of Leeds, but in order to keep calm MC was compelled to go to the bar and purchase a bottle of "Vin Rouge Despicable ". The axe man did his job and we carried on, now 40 minutes or so late via Newark & Doncaster and some very deep snow. Outside Wakefield there was another 30 mins delay while two goods trains were removed from the mainline, they could not move due to frozen points. A team of men with flame throwers did their job and 30 mins later we arrived in Leeds at 1.30 am. The entire train was completely sheathed in a coating of solid ice. No wonder the doors were frozen shut.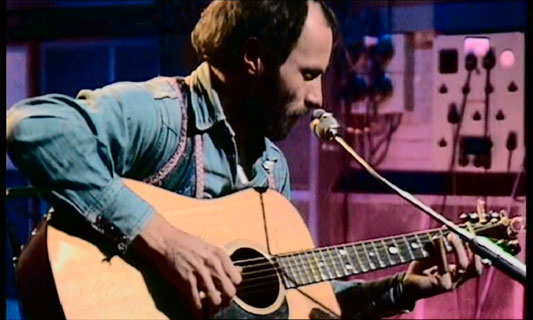 In an exciting turn up Michael is to the featured studio artist on the Bob Harris show on 7th December. Michael will be chatting with Bob, reflecting on his long career and sharing stories. Excitingly Michael will be taking his acoustic and playing three numbers live. Michael will also have his record box along, playing a couple of tracks by artists who influenced him. This will be broadcast on BBC Radio 2. International fans will be able to listen online via the BBC website (http://www.bbc.co.uk/radio2) the whole show will be available after the event for 7 days via the BBC iplayer (http://www.bbc.co.uk/iplayer/)
Releases updates
Here at cyber Chapman central we have seen proofs of the booklets for the American reissue of Fully Qualified Survivor and the expanded instrumental album 'Trainsong : Guitar Compositions 1967 - 2010' both contain excellent thoughtful and extensive booklet notes. Charles Shaar Murray offers a personal insight into the Chapman canon in the notes for the Trainsong album. Both albums booklets contain a wealth of contempory photos from Michael's personal collection including studio shots from the Survior sessions.

Train Song Instrumental Album, Improvised Album and Live Album
Tompkins Square Records of NYC are putting out a solo guitar instrumental album 'Trainsong : Guitar Compositions 1967 - 2010' this will be out in January 2011 to build on Michaels profile and aclaim in the states. Also Michael is going into the studios to record an improvised instrumental album for Thurston Moore's Ecstatic Peace label. With two dates with The Hellfire Preachers his backing band of choice this September Michael is hoping to put out a live album. Anyone who has heard them play together will know what an essential purchase this will be.
Fully Qualified Survivor USA reissue
West coast reissue label Light in The Attic Records (click here to visit) are reissuing Fully Qualified Survivor on CD and on vinyl. More information when we have it.
Michael Chapman Songs
Verite Alexandra who did some of the vocals on Navigation is working on an album of Michael Chapman songs. Michael has apparently laid down some guide guitars on tracks which Verite and Alex Warnes are going to work up into finished tracks
Facebook
Join us on Facebook on the offical Michael Chapman facebook page - lots of photos, links and music files collected together
click to view
Wrytree Drift 2010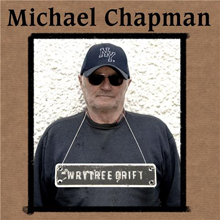 Wrytree Drift named after the mine (now closed) halfway down the drive to the Chapman's farm, the same workings that inspired Michaels song Prospector from 1979. Michael alternates between electric and acoustic guitars with plenty of 'hows he doing that' moments. The music shifts and drifts from folk ballads to languid dub, dark electric blues and solo guitar work outs. The album opens with a wonderful observational song 'Another Song'. A classic Chapman track in the making. The album showcases a studio version of So Young a track recorded on Michaels live album with Alamo Leal, a dark revist of Soulfull Lady, and a great take on Mose Allison's Parchman Farm (inspiring the sleeve photo of Michael captured as if in a deep south jail sewing mailbags) and a beautiful acoustic folk rock version of Blue Season from Life On The Ceiling. Elements of the experimental music from Sweet Powder, the playing on Time Past and Time Passing and the textures of Plaindealer combine to make a highly recommended listen.
Memories and Farewells Diz Disley 1931 - 2010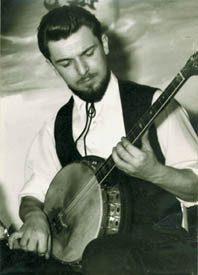 Diz Disley the other guitar player at Leeds Art College who also played jazz to get himself through college. Later made the transition from jazz to the folk clubs in the late 60s rather like Michael. There are a million Disley stories, Michael remembers going to see him play at a club in Hull when he and Andru were living there, only as Diz didnt play he ended up doing the gig. Eventually at 10.20 Diz arrived, just in time for the encore which they played together.
Memories and Farewells - Lesley Duncan 1943 - 2010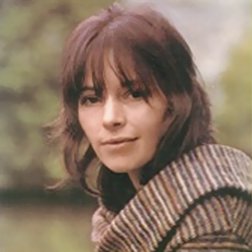 This is all getting too Sad. Had to break the news to Michael tonight about the passing of Lesley Duncan
.
Lesley was talked into singing a duet with Michael on Babe on Life On The Ceiling when he was recording at Sawmills Studios in Cornwall. Sawmills was started and run by Tony Cox Lesley's husband and Lesley was there during sessions, Michael wanted her to sing but assumed she would refuse and was chuffed when she said yes - he had Babe which he'd intended as a duet. (Criminal Records 1979 -reissued CD 1996 on Demon Records) Farewell to a superb singer songwriter and vocalist
Memories of NY Feb 2010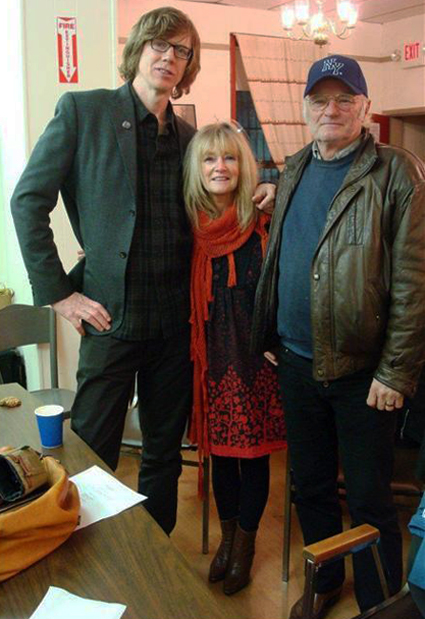 Memories of Michael and Andru's dates and time in NY click here to read more
And Then There Were Three Live in Nottingham 1977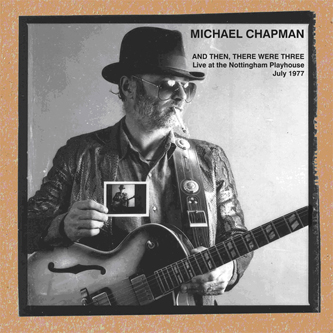 These are now available via the secure shop page priced £9.99 plus postage with usual rates to UK, Europe and the Rest Of The World. click here
In The Valley

Rock 'N Roll Jigley/Party Pieces

Kodak Ghosts

The Hero Returns

Among The Trees

Dog's Got More Sense

How Can A Poor Man Stand Such Times And Live?

Sea Of Wine

It Didn't Work Out

Time Is Tight
Recorded at Nottingham's Playhouse Theatre on July 23rd 1977 by Michael and a power house rhythm section in Lindisfarne bassist Rod Clements and former John Mayall drummer Keef Hartley, it includes some of his best-loved songs in "And There Were Three" (MSMCD151) - a jocular reference to Chapman's shrinking band, described nonetheless by note writer Marc Higgins as a 'beast with three heads'.
On 'In The Valley', Michael's guitar, dexterous and assured, instantly recognizable, and new and strange, shimmers around the snapping beat. Chapman called them a nods 'n winks band and telepathy is evident in the tempo shift from the frenetic 'Rock 'n Roll Jigley' into 'Party Pieces' as his effected vocal and a treacherous rhythm evoke inebriation.
The anthems continue with 'Kodak Ghosts' and 'Among The Trees' as Chapman picks apart his regrets to find small crumbs of comfort. From 'The Man Who Hated Mornings', the album they were touring, comes 'Dogs Got More Sense', another exercise in simple truth through excess. This track sees Michael's guitar solo and Clements' on a very 'lead' sounding bass, blow apart any vestiges of folk.
'How Can A Poor Man', an oldie even then, documents the US dust bowl depression. Michael makes it relevant in the power starved, strike ridden '70s and it's cuttingly current now.
The concert opener 'In The Valley' appears as a glorious flowing acoustic version on 2009's "Time Past And Time Passing"
'Sea of Wine' charted waters that Chapman, living the romantic 'road weary musician' lifestyle, knew like the back of his hand. Unfazed by the audience, the band push the song almost to breaking point, with a real sense in the middle, that even they haven't decided where they're going next.
Michael recalls concerts when he and Keef vacated the stand for the bar, leaving Rod to solo to the edge and beyond, just to see what would happen. Clements would, Chapman somewhat surreally claims, end up filling time by playing hymns.
'It Didn't Work Out', a tight roaring tale of a failure to write a song, rises from the shards via a drum solo and some solo bass that stops just short of being ecclesiastical.

The set ends with Booker T's 'Time Is Tight' and Chapman, rapping with the audience in Duke Ellington mode, an MC in every sense.
release date March 22nd 2010
First ever commercial release of a great live performance with band including Rod Clements (Lindisfarne) and Keef Hartley (John Mayall, Keef Hartley Band) Collectable 6-panel digipack with previously unpublished period photographs in a limited pressing of 1000 units
more information - www.marketsquarerecords.co.uk
MH 01/10
Journeyman Workshop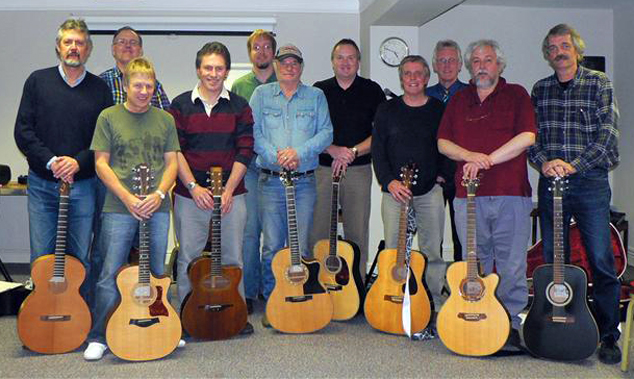 click here to visit a report on the Journeyman Guitar Workshop that took place in Sheffield in November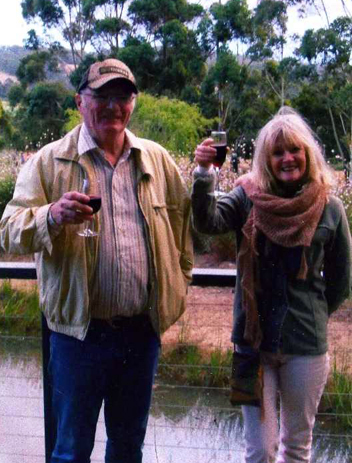 A very Happy and Healthy 2010 to you all
from Michael and Andru
and to those we'll sadly miss:
John Martyn
Jack Rose
Tim Hart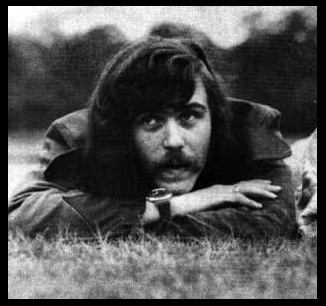 Tim Hart 1948 - 2009
Tim Hart who as part of a duo with Maddy Prior was one of the original founders of Steeleye Span in 1969. Tim was a talented singer and instrumentalist. His distinctive vocals were part of Steeleye until his retirement from music in 1983. Apart from an appearance at a historic Span gig in 1995 and a turn with Maddy at the Electric Proms in 2008 Tim spent his time on the Canary Isles persuing an interest in photography.
MH 12/09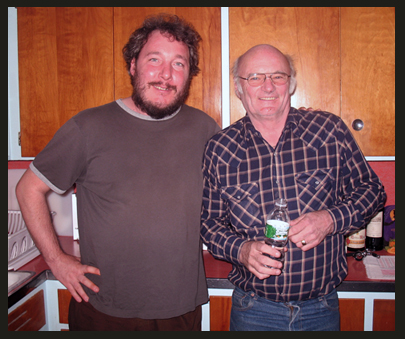 Jack Rose 1971 - 2009
Michael met Jack a few years ago and they clicked as people and as players. Kindered spirts in the way that they straddled genres and refused to be classified. Anyone what wants to hear cutting edge acoustic music and an inventive player should seek out his recordings. Michael and Andru, tonight in the Borders and Dublin respectively will be raising a glass to Jack who died earlier today following a heart attack
MH 05/12/0
215
Including new songs and a storming instrumental guitar workout 'Two Trains' that closed the show in Redbourn last week, Michael has a new album mostly recorded. As yet untitled but likely to be called 215 after the antique Gibson 215 electric guitar he recorded with. After the thick textures of Sweet Powder and the acoustic mastery of Time Past And Time Passing this promises to be an album of electric guitar with the jazzy ambience of the Gibson that has featured in live sets this year.
MH 11/09
In The Can
Michael has a number of projects on the go at the moment. He is putting together a limited edition 3 album set including a live album. The set in a metal box will be called In The Can and limited to 200 copies, more information when content and a release date is finalised.
In Concert Live Album "And Then There Were Three"
Market Square Records are releasing a live in concert cd of Michael Chapmans live trio that included Keef Hartley and Rod Clements. The set taped for Radio in Nottingham in the mid 70s includes band versions of In The Valley, It Didnt Work Out, Kodak Ghosts, Party Pieces, Among The Trees and others. CD will be released late 2009 early 2010 more information when we have it.
MH 09 09
"Journeyman" Develop your songwriting (explore origins of Michaels songs and inspiration) and your playing skills
An intimate and informal
Song writing & Guitar Workshop

(20 places only)

Featuring Michael Chapman
Thursday 26th of November 2009 9.30am to 5.30pm

The Beauchief Hotel, 161, Abbeydale Road South, Sheffield, S7 2QW, UK Ticket Price £80.00

Bookings to be confirmed by Stuart or Pamela Wiley,
Tel 01246 419718
e-mail stuart.wiley@btinternet.com £25.00 deposit is required by cheque, Payable to Stuart Wiley,
And forwarded to

Stuart Wiley,
11, Cartmel Close,
Dronfield Woodhouse,
Dronfield,
S18 8PF UK

Click here to download a word document registration course once your place has been confirmed

PDF Flyer A4 click to download or open
John Martyn 1948 - 2009
Life go easy on me....love don't pass me by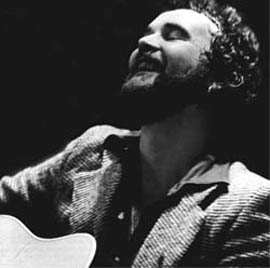 It was with great sadness and personal memories of sitting on the floor in the concert hall at Leeds Uni while that huge guitar sound crashed and echoed around us, that we heard this morning of the passing of John Martyn. John was a unique vocalist, a guitar master a writer of future folk standards and just like Michael the king of surreal between song banter. May you never indeed
Front Room Masters Fairview Studios
Available now is a double cd of tracks recorded at the legendary Fairview Studios where Michael recorded his first tracks and later recorded material for albums like Looking For Eleven. The CD features tracks by The Rats, Basil Kirchin, Mandy And The Girlfriends and others. Great sleeve notes and two exclusive Chapman tracks. There are no session dates on the CD, but I would date the versions of On My Way Again (only otherwise available as a session outtake from the1970 Window sessions on the German reissue of Rainmaker) and Goodbye To Monday Night from 1966-67. On My Way Again is a solo performance, Monday Night features backing from Fairview session players that I would guess include Rick Kemp.
Happy New Year 2009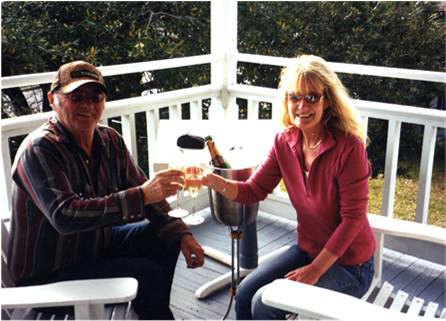 Happy 2009 from Michael and Andru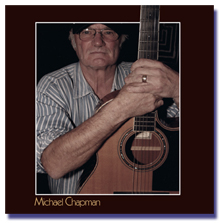 Just when you thought you had it all figured out, along comes another release. Its title is a quote from Postcards Of Scarborough, the album is a stripped back guitar led showcase of new recordings of classic material. There are some new combinations and a new tune. Released on the Electric Ragtime label in the USA, this is a manifesto or a shop window to re-introduce Michael to a wider public in America. Currently only available in the US, or from Michael at gigs, we are looking at UK distribution. Michael has been very excited by the profile the release gave him there during his recent tour, being interviewed by and playing with Thurston Moore and going into CD shops and seeing a Michael Chapman section 'first time since I cant remember when'.
Strangers Map of Texas / The Twisted Road
Sometimes
Fahey's Dance
Ponchatoulah
Dewsbury Road / That Time of Night
Little Molly's Dream

In the Valley
Caddo Lake
Memphis in Winter
Silverking / Dust Devils
Vanity & Pride
"Chapman is an old-school hero of the British folk movement, right up there with John Martyn, Bert Jansch and Nick Drake. But unlike those guys the mind-blowing guitarist has always sounded as if he could've been born and raised in Texas or even Tennessee. With its Western-inspired soundscapes, Time Past & Time Passing is pure Americana. Chapman even has a raspy, time-worn drawl that would sound right at home in a campfire jam session with gritty dudes like Guy Clark and Kris Kristofferson."
Justin Farrar Rhapsody
A rather underrated figure here in the U.S., Michael Chapman is to my mind one of the essential figures to come out of the early seventies British folk rock scene, whose best work is easily on par with that of Bert Jansch, Roy Harper, John Martyn, Bill Fay, etc. His gruff and laconic singing style is instantly recognizable, and his skill on the guitar has only gotten better with age. He made a rare trip to the states a couple years back and recorded a session with former Other Music employee Rob Hatch-Miller for his WFMU program that totally bowled me over; I just could not get over how freaking great he still was, and a burn of that show ended up being one of the things I listened to most that year. I'm happy to report that he has an excellent new album of mostly solo acoustic guitar tracks, and I'll be frank, he can play circles around most of the current crop of fingerpickers. He's really become as good as Fahey was in his prime, and that's not just hyperbole.

Michael Klausman (October 10, 2008)
Michael Chapman was, in the late 60s and early 70s, a well-established figure in the Brit folk nobility along with a number of even larger figures like Roy Harper, Bert Jansch, and John Martyn. Chapman attracted the attention of high-level players along the lines of Mick Ronson (Bowie & Spiders), Paul Buckmaster (better known for arranging), Gus Dudgeon (big time producer), Rick Kemp (Steeleye Span), Rod Clements & Ray Laidlaw (Lindisfarne), and so on. For three major labels, he put out eight well-regarded LPs that slowly wended their way to a more rock-ish sound, Afterwards came a fade into the alt market where he returned to folk and composed much more instrumentally, which this CD emphasizes beautifully…to the surprise of cats like me who have his early output and hadn't expected it at all.
Chapman has a marvelous fingerpicking style that slips in between Jansch, Ralph McTell, Al Stewart, Peter Lang, John Fahey, and the more prosaic players favoring slowly evolving patterns and sonic stories rather than lightning riffs and bizarre tempi. The guy's now 67 and has developed a very masterful hand, confident, lithe, measuring itself by the richness and expressiveness of lines put through often trance-ily fascinating changes. There are, however, several vocal cuts, mostly in a sprechestimmish tone, redolent not only of worldliness but weariness as well, always a good combination in folk and blues.
Speaking of blues, a couple of times Chapman demonstrates the same raw and rootsy immediacy of a Bernie Pearl, especially when playing slide, though most of the album is serene, sometimes jazzily fractured, folk and quasi-classically chamberish, modern instrumentation with elder values. Since 1969, the guy has put out 32 releases, no small feat. On this one, as I also suspect is the case in much of his recenter output, you get just him and his guitars along with an effects pedal or two, and the result couldn't be more pleasing.
Folk & Acoustic Music Exchange Mark S. Tucker
Michael Chapman is one of those musicians I've long heard of but never actually heard. Wow, that's been my loss, but also now a great discovery. Courtesy of my friend Howard Wuelfing comes Chapman's newest album, Time Past & Time Passing. It's a stripped-down affair, with just Chapman on acoustic guitar and singing. The recording is intimate and warm with a sparkle of reverb here and there.
An extremely versatile player, Chapman is adept at "British-style" finger picking as well as Delta blues and slide, and his voice has a weathered, oak-y quality like a well-aged single malt whisky. That quality comes across markedly on the terrific "Sometimes," a visceral examination of life's ups and downs with some nifty fretwork. Chapman can also get down and dirty on the axe, such as on the tribute to fellow fingerpicker and seminal acoustic guitarist John Fahey on "Fahey's Flag," a gut-bucket, slide blues workout. "Ponchatoula," by contrast, is a peaceful, lullaby-ish interlude.
Chapman has the rare ability to write not just great songs but great instrumentals. Case in point is the phenomenal "Caddo Lake," a heartbreakingly gorgeous guitar tune - one of my favorites ever. "Silver King/Dust Devils" is a joyous ragtime-like romp that recalls Piedmont pickers like the Reverend Gary Davis. "Vanity & Pride" is another instrumental that brings the album to a shimmering end, sounding something like Pat Metheny.
If, like me, you've never heard Chapman previously, this album is a great place to start. Then, you can go back to a substantial catalog, including celebrated albums such as 1970's Fully Qualified Survivor, voted by legendary British DJ John Peel as his favorite record of the year. I'm looking forward to more discoveries.
classicrockmusicblog.com
Veteran British guitarist Michael Chapman produces a beautifully moving and harmonic little gem with his simply lovely latest album. Chapman's wonderfully hoarse and weary voice conveys a wealth of hard-won wisdom and ragged emotion while his sharp, fluid and skillful guitar playing never hits a single false or flat note. Moreover, his songwriting has a maturity and thoughtfulness that's a real pleasure to hear. The slowly trudging tempos and subdued, yet steady beats keep things laid-back, yet still tuneful throughout. Better still, such songs as "Sometimes," "That Time of Night," and "Memphis in Winter" have a serenely reflective and straightforward quality that's downright sublime in its eloquent simplicity and delicate melodicism. A sparkling jewel of an album.

Sweet Powder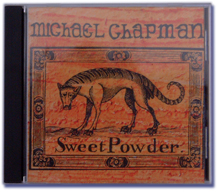 So History became history. Not wanting to make 'just another' Michael Chapman album Michael wanted to involve another producer. Alex Warnes owner of Phoenix Michael's prefered studios spent a night hunched over a hot studio desk, pouring on uniqueness to prove that he should be the another producer, strenghtening a working relationship that goes back 20 years. The concept of the history / simple stream of recording remains with revists of classic Chapman material and some covers of influencial material, but the sound on Sweet Powder is startling and contempory. It may devide listeners, it may turn out to be a classic it may appeal to a whole new set of new fans
click to visit secure online sales page - vist Sweet Powder page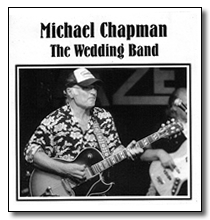 The Wedding Band CD
Michael Chapman playing a funky electric with Roy Whyke and Jeff Betsworth (Drums and Pedal Steel) from his Americana and Plaindealer albums with Dave Lewis on Bass recorded live straight to DAT so digital all the way at The Maze in Nottingham Autumn 2006

Superb recordings of a live gig. Great playing with a great small band, superb interplay between the pedal steel and Michae'ls guitar.

CD is brand new released on Michaels own Rural Retreat Records

click to visit secure online sales page

05/07

How Can A Poor Man Stand Such Times As These

That Time Of Night

Sometimes

The Prospector

Sea Of Wine

Bon Ton Roolay

Twisted Road

Ramon And Durango

Shuffleboat River Farewell

Soulful Lady

Geordies Down The Road

Blue For You (Instrumental)
History CD
Michael's ongoing studio work has now become two albums. History is a studio album and Michael is so pleased with the live recordings from Nottingham that they are going to be their own as yet untitled album. Michael played with a trio (Bass Drums and Pedal Steel) and loud shirt and played an excellent set, so this should be well worth a listen.
Myspace - Fullyqualifiedsurvivor
Michael now has his own Myspace http://www.myspace.com/fullyqualifiedsurvivor. Couldn't have michaelchapman apparently that is already taken, as alternative fqs seemed to have the right resonance. We have a regularly changing selection of Chapman album tracks, live tracks and rarities to listen to.
Imaginational Anthem Volume Two Tompkins Square Records
1. James Blackshaw - River of Heaven
2. Peter Lang - Future Shot at the Rainbow
3. Jose Gonzalez - Suggestions
4. Jesse Sparhawk - Light Cycle/Tetrahedra
5. Michael Chapman - Leaving The Apple
6. Sean Smith - What Blooms in Summer Dies in Winter
7. Fred Gerlach - Devil's Brew
8. Christina Carter - Ascend Mem
9. Jack Rose - Cross The North Fork II
10. Billy Faier - New World Coming
11. Sharron Kraus - Looking For The Hermit's Cave
12. Robbie Basho - Kowaka D'Amour
Michael has contributed a typically atmospheric instrumental playing acoustic and electric lead to the 2nd volume of the cult US compilation Imaginational Anthem. The track leaving the apple was inspired by leaving New York.
Volume One brought together guitar players like Jack Rose, the incredibly dexterous Kaki KIng and veterans like John Fahey. Volume One had a later UK release, but vol 2 is currently only available in the US, but can be purchased on the internet. Got mine via ebay. The lavishly packaged collection (nice photo of Michael tending the cows, doing his best to look as unlike a legendary acoustic guitarist as possible) brings together expansive instrumentals that range from pastoral to decidedly avant gaude.
More Reissues - Millstone Grit - Lost
I have just completed collaborative sleeve notes with John Tobler for BGO's reissue of Millstone Grit following on from their excellent reissues of Rainmaker, Fully Qualified Survivor, Window and Wrecked Again. BGO Records.
Michael is also releasing via his own Rural Retreat Records a set of lost recordings from the early 90s. These include big production band versions of Geordies Down The Road, Elinkine, Falling From Grace, Fool In The Night and others. The recordings feature some stinging electric lead playing from Michael in what he called Carlos Santana mode and beautiful acoustic as always.
The version of Geordie is unique, with samples, programming and evil guitar, sounding like it was recorded in a foundry. Titled Lost after its current state this unique document is available now
MH 07 06
40 Years On The Road Tour
To celebrate 40 years of playing live professionally Michael is doing what he is calling the 40 Years On The Road tour. Michael is practicing some of the material he played on his first dates and is threatening to revisit some obscure material. Keep checking the concerts page as dates are still being added.
Tour T Shirts from The Bus Pass Mini Tour are available via the online sales page. See you at The Half Moon Putney
Michael Chapman's Albums of the Year
On the stereo this at the Farm recently have been Bill Frisell's East West (an amazing live cd recorded on the east and west coasts of the USA, mix of Frisells own originals and some surprising covers - great deconstructed version of I Heard It Through The Grapevine). Mary Gauthier, Filth And Fire ( fine vocalist and songwriter, Christmas In Paradise is a great festive song), Bobby Charles, Last Train To Memphis, Arvo Part, Fratres, Buddy Miller, Universal House Of Prayer, Jimmy Giuffre, The Easy Way, Dwight Yoakam, Dwight Live, Charlie Christian, The Genius Of The Electric Guitar. How does this compare to your list
Words Fail Me
Following his dates in the US, playing a set of slightly avant garde instrumental dates Michael has recorded a double album of his instrumental pieces, revisiting his material as far back as Thank You PK 1944. The recordings are solo guitar recordings with no over dubs. Michael notes that fired up from a runs of American gigs his playing was top notch, the tracks were laid down quickly and included many first takes. The album is to be called Words Fail Me.
We are now also selling the Live At The White Swan cd of Michael live with Alamo Leal on second guitar. This is available on the online sales page.
mh 12 05.
Bus Pass Tour
Michael is already putting together a few dates around his 65th Birthday (24 01 41) for what he is calling the bus pass tour
mh 02 08 05
CD Re-releases
The rights for Navigation (1995) and The Twisted Road (1999) have just reverted to Michael. Both are excellent albums and both will be available here via the online sales page from late August. Michael is currently ammending the sleeve art and working on the masters. Also in the pipeline is a live cd of solo Michael Chapman taken from a very rare double live cd he did with Alamo Leal the blues guitarist and singer. There were only a handful of copies of the cd made up by Fairview Studios with three being auctioned for charity last summer. These recordings will feature just the tracks where Michael is playing solo and should be available again via the secure sales page later this summer
mh 02 08 05
Chapman rarities of the future.
Alex at Phoenix Studios, where Michael records, has added the website address to the already reworked sleeves of The Black And White Album, Plaindealer and Live And Unhinged. This means that there are about 20-30 copies of Black and White in existance with the picture of Michael in the Jimmie Rogers Museum on gatefold sleeve but without the web address at the base of the sleeve. OK so a bit anoraky, but it does make you think.
mh 02 08 05
Online Sales Summer 2005
www.michaelchapman.co.uk is now set up for secure online sales. At the moment the Plaindealer Michael Chapman Shop (no prizes for guessing where I borrowed the graphic from) is stocked with Plaindealer, Michael Chapman The Black And White Album, Live And Unhinged and some unplayed signed vinyl copies of Heartbeat on the Coda label. The CDs are £12 with different rates of postage for UK, Europe and ROW (rest of world). Secure payment is through paypal and you will need to be set up with them to send payment (70 million worldwide users they say). We are also selling copies through ebay if you are set up with them but do not wish to use paypal then you can pay via cheque, postal orders or cash.
visit our pages on ebay - search on ebay for michael chapman (UK) - search on ebay for michael chapman (international)
Plaindealer
Michael''s latest is now titled Plaindealer after an American newspaper he found and is released through his own Rural Retreat Records. The album is available at gigs and is available here with secure online payment
click here for a track by track review
MH