Blues Wax Spotlight On Michael Chapman Rothbury Roots - The Queen's Head Rothbury, UK
August 24, 2012 By David Scott / Photo Graham Smout
Rothbury Roots was started by Lindisfarne legend Rod Clements with the laudable aim of "keeping music live" in this picturesque village in the heart of Northumberland. His successor is the amiable Scotsman Andy Craig, local entrepreneur, professional photographer, and male voice chorister, who is doing a superb job in attracting the best in folk, blues, and roots music to this rural venue. Recent artists have included Johnny Dickinson, State of the Union, and Frenchman Claude Bourbon, such is the ambition to bring the best of American and European blues to the Simonside hills.
The visit of Michael Chapman filled the venue to its 100 capacity, with fans travelling from all over the country to see the 71-year-old self-confessed white bluesman, who turned professional in 1967 and has been touring ever since. His set opened with a medley of his train-song guitar compositions, including "The Last Polish Breakfast," "Little Molly's Dream," and "Flahey's Flag." This virtuoso performance made Tommy Emmanuel look like Bert Weedon, as Chapman used the slide to sail effortlessly across the strings, complemented by intricate finger-picking, his thumb providing a deep, steady bass. Somehow he also added innovative riffs and solos, producing a mellifluous tone which put the audience in a trance, the subtleties in the notes and the spaces in between giving the listener time to reflect upon the music.
Not surprisingly, John Fahey is right in your head, but so is Kelly Joe Phelps and Mississippi John Hurt; above all Michael Chapman is unique. As Charles Shaar Murray explains, Chapman's music grows from, "The gritty solidity of the blues, from fields to factories, from Delta electric slide to chugging overdriven funky electric, deeply rooted in struggle, sensuality, and hard work."

He tells stories in a Dylanesque kind of way but in a much gravellier voice, and his lyrics are inspired. In "Just Another Story," a song about a truck stop waitress, he comes up with the immortal line, " With her ponytail and pickup truck, she's high on her heels but down on her luck."

The riff underpinning "Kodak Ghosts" from the Survivor album is remarkably similar to Jimmy Page's "Stairway To Heaven," but Chapman got there first; enough said! Some of the songs are essentially in the folk idiom but the themes are rooted in the blues, such as the fear of "That Time Of Night," the abandonment of "Shuffleboat River Farewell," and the train journeys ubiquitous to both genres, encapsulated in "'The Mallard." As Chapman was writing the latter on York station he reflected on how "It's the glamour that gets you down." Well, his existence may not seem glamorous to him but it is a glorious one for those who are priviliged to see and hear one of the best English guitarists and songwriters of his generation. This was confirmed by the encore, "La Madrugada," a haunting, echoing, spellbound instrumental inspired by visits to churches in northern Italy and Spain where Chapman confessed, "I played to God in case there is one!"

Dave Scott is a contributing writer for BluesWax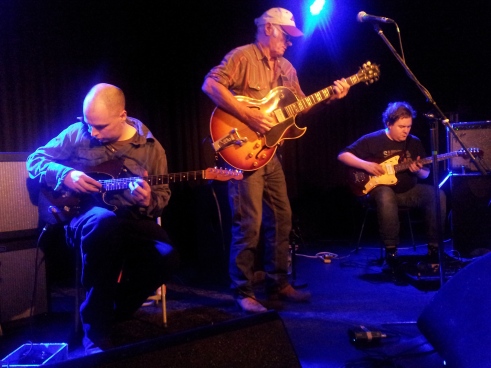 Michael Chapman, Dean McPhee and Daniel Land @ Lexington, London 29/01/12
There is a fairly telling moment, about three-quarters of the way through this mostly excellent night of three guitarists, at the Lexington, between the Angel and King's Cross.
Michael Chapman has just finished a remarkable solo piece and is off to prepare for an improvised session with his support acts, Dean McPhee and Daniel Land. I can't recall the exact words, but the gist is, "This will finally stop people claiming I'm a folksinger."
At 70, and finally, justifiably acclaimed as a more-or-less great songwriter and guitarist, Chapman has arrived at what we might call his 'late-period John Fahey moment'. His early classics ("Fully Qualified Survivor", "Rainmaker") are being lavishly reissued. He is encouraged to revisit his old songs instrumentally, to showcase a liquid and elaborate technique ("Words Fail Me"). He has a new generation of admirers singing his praises.
What else to do, then, than act on the encouragement of one of those fans (Thurston Moore) and embark on a new venture as an avant-garde improviser? Tonight closes with Chapman, McPhee and Land working on the hoof in response to Chapman's latest album, "The Resurrection And Revenge Of The Clayton Peacock" (a Leeds United reference to Adam Clayton, perhaps?). First, though, each takes a solo turn.
I've written a few times in the past about Dean McPhee (on his "Son Of The Black Peace" album and "Brown Bear" EP, for a start), and usually compared his reverberant solo electric pieces with Vini Reilly and The Durutti Column.
Tonight though, while no less atmospheric, there is something twanging and bluesier about his lovely instrumentals, which remind me of a bunch of acts who acted as dusty, rootsy, notionally more 'organic' outriders of post-rock in the 1990s: Pell Mell and Scenic, say, and perhaps Two Dollar Guitar. It's especially apparent in a new tune called "Evil Eye", rattling train rhythms cutting a swathe through blasted expanses.
Daniel Land, a new name to me, also seems to have certain 1990s antecedents for his quasi-ambient, fx-heavy sound: namely, players who stretched out the shoegazing template like Fuxa and some of Flying Saucer Attack's Bristol associates (Light, maybe? Hard to remember now), as well as one who helped formulate that same template, Robin Guthrie. Not bad.
Michael Chapman, meanwhile, seems vigorously intent on proving, in the space of about 15 minutes, that he's the match for most any revered Takoma School guitarist, old or new. The virtuosity is breathtaking, as Chapman uses his wedding ring as a slide and ramps up into a Jimmy Page-like flurry of notes (gifts already apparent on his '69 debut, "Rainmaker", it transpires). But there's a sensuousness and warmth, too, a feel that makes the display so much more than a kind of downhome technoflash.
Chapman is one of the relatively few British guitarists to push the folk idiom into more experimental territory, compared with so many of his American contemporaries. Like John Fahey's late work, though, there's a sense that a piece like "Clayton Peacock", diverting as it is, might signal a certain range, ambition and mischievous instinct while not necessarily being the best showcase of his skills.
Consequently, while this live take (rehearsed in 30 minutes, according to a wry McPhee; the remaining 90 minutes of their time slot was given over to "wine") has less of the faintly industrial grind of the "Clayton Peacock" album, Chapman's general Thurstonning is often too subtle to cut through the diligent work of McPhee and through Land's soupier environments. Every few minutes, he revisits a bass-like theme, distantly reminiscent of Funkadelic, that is pleasingly incongruous in a piece which mostly has a kind of free rock predictability to it, if that makes sense. Mostly, though, the endeavour feels more like a forward-thinking way to end a good night, rather than a climax.
Uncut Magazine 2012 John Mulvey
Michael Chapman, Dean McPhee and Daniel Land @ Lexington, London 29/01/12
At the age of 71, Michael Chapman is in sharp mind and defiant mood. "Tonight will finally put to rest this idea that I'm a fookin' folk singer", he snaps, with dry humour. For the collaboration with guitarists Dean McPhee and Daniel Land that 'recreates' The Resurrection And Revenge Of The Clayton Peacock, Chapman's first album of improvised noise from last year and concludes this compelling concert, the trio claim to have had a mere half an hour of rehearsal time.
This is Chapman, encouraged in the first instance by Thurston Moore (who released the first limited vinyl run of Clayton Peacock), exploring the contours of spontaneity and interaction, in a remarkable late blooming of creativity. As a result of this, he is reaching a whole new audience. His previous work as both folk singer and composer of music for solo guitar is at last being made widely available and getting its due appreciation.
Before the closing extravaganza though, Chapman and special guests Dean McPhee and Daniel Land perform short sets of their own. McPhee's opening performance is magical, with a swathe of reverb turning the sound of his lone electric guitar into something sepulchral and imposing. In a set that is sadly all too brief, we get an impressive snapshot of McPhee's artistry - there's one track from his excellent Son Of The Black Peace album and one from his Brown Bear EP as well as a clutch of new compositions that seem to further develop and enhance his playing style.
The new material ('Evil Eye' especially) has a rolling, rhythmic quality to it - a greater urgency than his more contemplative pieces. What also really cuts through in this performance is McPhee's incredibly strong melodic sense. This music is about a good deal more than the reverb-soaked atmospheres McPhee creates. The chiming, crystal clear attack of McPhee's melodies are occasionally reminiscent of Patrick Patterson from the great Cymande, although this is of course a very different context and it would be surprising if McPhee had even heard that band. There's one lengthy new piece (which might be called 'Fatima's Hand') which also shows McPhee's fluency in his exposition of his themes. The older compositions ('Star Burial' and 'Sky Burial') bookend the set and demonstrate McPhee's skill in establishing mood and atmosphere.
Daniel Land approaches the guitar more unconventionally, often abandoning correct techniques altogether in his search for ever more fuzzy and disorientating sheets of sound. Much of this seems to be down to his combination of added effects. It's briefly mesmerising, and provides for an intriguing contrast with the more studied approaches of McPhee and Chapman.
Chapman's solo set is even more mercilessly concise, but within its short time span is a wealth of wonders. Chapman's dexterity remains peerless and he has delved ever more deeper into the sound of both the blues and the Takoma school of guitar players (John Fahey particularly). A wonderful moment comes when Chapman uses his wedding ring as a slide. The music is somehow both graceful and attacking - full of spirit, exuberance and feeling.
Inevitably, the advertising of this gig as Michael Chapman plays ...Clayton Peacock turns out to be somewhat misleading. It is of course completely impossible to recreate a single piece of improvised music that exists only once. In actual fact, this intriguing collaboration deftly balances the contrasting styles of Chapman, McPhee and Land and takes a rather different direction away from the sound of the album. Tonight's music is less abrasive, but no less engaging, travelling through a satisfying variety of textures and moods.
Of the three, it is Chapman who plays most conventionally - anchoring the improvisation in his own inherited musical language. He plays recognisable chords, as well as returning, with brilliant results, to a surprisingly groovy ostinato bass figure. This rhythmic impetus drifts in and out of the ether. Too often, this approach to improvisation leads to the conscious abandoning of rhythm as a musical element. It seems that Chapman has recognised that this can often result in a musical cul-de-sac.
Given the excess of effects being utilised, it's remarkable how well blended the three musicians are. What could come across as a confrontational exercise instead becomes a moment of mutual exploration. Having said that, it all ends with one final flourish of feedback - a tinnitus-inducing reminder of Chapman's defiance.
Daniel Paton www.musicohm.com
Michael Chapman at the Lexington: Resurrecting the Clayton Peacock
Michael Chapman with Dean McPhee and Daniel Land The Lexington, London Jan 29, 2012
Just five days after celebrating his 71st birthday, Michael Chapman was at The Lexington to perform a collaborative reinterpretation of a track from his debut 'noise' album and career-first improvisation, The Resurrection & Revenge of the Clayton Peacock.
"This will be a truly unique gig," promised Chapman's website, "as Michael Chapman, Dean McPhee and Daniel Land will be recreating the Resurrection side of the LP live, obviously as this is essentially an improvised gig anything may happen."
Lancastrian guitarist Dean McPhee opened proceedings with a long solo set, which was followed by a shorter set by Mancunian Daniel Land.
With a Fender Telecaster, a tremelo pedal and a good deal of reverb, McPhee span out cleanly-picked long-form melodies with full chords of a languid, opalescent tonality. His material is clean-lined and mesmerizing, rather too much so at times; a little more grit under the shell might produce some real pearls.
Daniel Land is best known for the "shoegaze"-influenced music he makes with his group, The Modern Painters, but here he played something quite different, an amplified variation of the multi-layered ambient music he records as riverrun, using an array of pedal effects to produce a rich wash of electric tonalities.
Michael Chapman followed Land with a very brief solo set of highlights from his recent Trainsongs career retrospective such as "Slowcoach": a sequence of warm, dancing patterns of hypnotically cyclical finger picking, presumably selected for its contrast to the free-form Clayton Peacock.
On the Clayton Peacock album, Chapman, playing solo, achieves a rich, rebarbative sound, as if the recording were realized in a cavernous metal cistern. Its sonics are hardly analogous to those of the influences most often attributed to Chapman, such as Jack Rose or John Fahey (whose 1959 recording "The Death of The Clayton Peacock" inspired Chapman's album title). They are more comparable to the hazier shades of Neil Young's La Noise, or even the less blasted interludes from Young's Thurston-Moore-influenced Arc-Weld live tapes, though glints of Chapman's spiky finger-picking ripple through. http://dalstonsound.wordpress.com
MICHAEL CHAPMAN
Café Oto, London, December 17
70 years old, and some 45 years into his career, Michael Chapman finally appears to not only be undergoing some kind of career renaissance, but finally receiving the acclaim that should have been accorded him several decades ago as a true pioneer. And about bloody time too: with the deaths in the last three years of John Martyn, Davey Graham and Bert Jansch, people are starting to realise that this gruff-voiced Yorkshireman, alongside his contemporaries John Renbourn, Robin Williamson, Mike Heron, Martin Carthy and Wizz Jones, is one of the last few remaining treasures the acoustic guitar has got. Plus he writes brilliant lyrics. Let's not mince words, the man is a genius….
Opening his set with a six-minute instrumental ("my Mum used to prefer those", he quips in the first of many priceless witticisms) may have got the avant-garde cognoscenti of Oto prematurely excited, thinking they might be about to witness a show based around his recent, noise collage-based album, which, after all, did make no.6 in Wire's albums of the year list) but no, this is Mike's show, and if he decides you're going to get songs, then that's what you get. Quite frankly, I'm relieved- I'd rather hear the warm, pondering tones of 'Shuffleboat River Farewell' and the evergreen, Zep-inspiring 'Kodak Ghosts' than a whole set-full of new stuff anyway, and judging by the rapturous reception the Leeds troubadour gets, he has made the right decision.
Snapshots of his life both preface and permeate each song, giving rare insight into the work of an iconoclastic artist: a humorous vignette about meeting an apparent stranger in Waterstones turns into a quite poignant admission that he didn't recognise his own ex-wife, and is suffixed by an equally moving (yet never sentimental) song detailing the same. And while he writes many of his songs in similar keys, this creates both an air of connection and a conceptual link, rather than tending towards repetition the way it would do in the hands of a lesser composer. Still, while Chapman's words may be among the most unique, candid and well-chosen ever penned, and remain my personal favourite aspect of his sound, it's his guitar playing, possibly even more deft now than in his heyday of '70-'76, that many have come to admire, and they are amply rewarded.
Twirling, swirling, intertwining flurries of notes, endless circular riffs and thrashes of occasional spite merge into one another, while ragtime and blues couple and rub shoulders with the gentlest, most pizzicato finger playing I've witnessed on the instrument. The fascination is so intense you could hear a pin drop. This truly is the power of Michael Chapman, and while, like Al Stewart, I'd like to see him play with a full electric band again one day, and revisit some of those tunes, I realise that not only does the budget not necessarily stretch to it, but at this stage in his career, he doesn't have to: he can manage perfectly well enough on his own, and with more dignity.
Rather than the usual 'Soulful Lady', the encore is instead a mournful Latin-based instrumental dedicated to the recently departed Christopher Hitchens, but the patrons of Oto tonight have little to be melancholy about. At 70, Michael Chapman, the man who for years remained best-known for apprenticing Mick Ronson and thus inspiring half the material on The Man Who Sold The World, is finally becoming better known for his own work, but while he seems to show no sign of slowing down (this is his third London gig alone in two months) he won't be around forever either, so go and see him while you still can. That's an order- a fully qualified order.
DARIUS DREWE SHIMON
Happening Magazine - happeningmagazine.blogspot.com

Folk Legends' appeal stands test of time
Michael Chapman and Bridget St John The Prom

FORTY years ago in the heady days of the Folk Boom, Michael Chapman's Fully Qualified Survivor was a classic album treasured by almost everyone on the folk scene. Four decades on anf the Yorkshire - born singer, songwriter and guitarist has proved himself to be just that , a fully qualified survivor. If one survivor from the Seventies folk scene wasnt enough, he was sharing thge bill for this gig with Bridget St John. For 20 years she's lived in New York in semi-retirement, so this was a very rare chance to see one of the great voices of that era.
She opened the show with a version of Dylan's Just Like A Woman, slowed right down and given an almost folky slant that demonstrated that her voice has lost little of its deep warm richness. Her long association with the late and very great John Martyn was remembered with a very fine version of of his lovely Back To Stay, and her clos friendship with Michael Chapman by a version of his very catchy Rabbit Hills. She closed with Ask Me No Questions her breathtaking song which still sounds as beautiful as it did in 1969.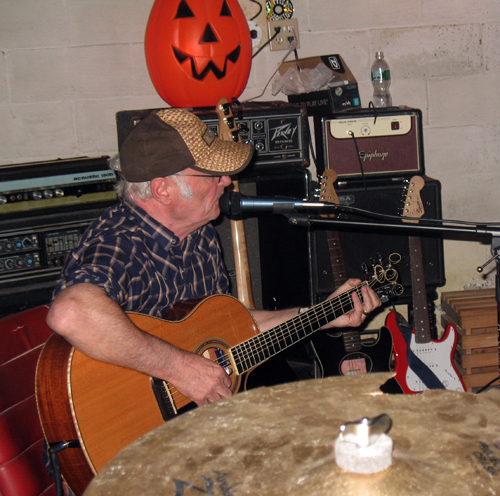 Truly Underground Jack Rose, Michael Chapman
Helderberg House, NY, USA Oct. 8 2008
Jack Wingate, Albany purveyor of underground music via Flipped Out Records and his own flipped-out band, Burnt Hills, has been known to host quite the doozy of a basement show from time to time, usually on the psychedelic/noise side of the fence. An altogether gentler but no less intense vibe suffused the recent visit by hallowed British folkie Michael Chapman and esteemed Philadelphia-based guitarist Jack Rose to the surreal confines of the Wingate cavern. What occurred was an evening of acoustic-guitar playing par excellence that could not go unreported.
Seated near a grinning, electric pumpkin head, a cup of Maker's Mark near at hand, Rose played a mesmerizing set of instrumental set pieces that melded Eastern and Western musical styles with a thrilling and virtuosic ease. The 30-something Rose dove headlong into what could only be described as a raga, his perpetually moving picking hand creating the swirling drone of a sitar as he picked out notes seldom heard on a Western flat-top guitar. Halfway through this first tune, the melodies wandered westward to Israel, perhaps a reference that Yom Kippur had started a few hours earlier on in the evening. Rose followed with a tour de force of fingerpicked blues that seemed to take up where Mississippi John Hurt and the ragtime guitar of Blind Blake left off. Rose finished his set with improvisatory forays that seemed to try and reconcile the disparate heritages of European and Middle Eastern classical music—an inspiring and extremely difficult feat.
Michael Chapman, while far from a household name, comes from the same school of guitar and songcraft as his better-known peers Bert Jansch and Roy Harper. A wizened but robust raconteur with a wreath of white hair framing a friendly, grandfatherly face, Chapman was touring the United States for just the third time last 30 years. Setting up his songs with backstories that were simultaneously revealing, poignant and funny, Chapman gave relaxed and masterful versions of the recent "After All This Time" and the comparatively ancient "Little Molly's Dream." Recalling a dinner party with the late folk giant John Fahey and his wife while on a visit to his home in East L.A. (it involved the host getting completely naked while still at the dinner table), Chapman followed with a tribute of sorts, "Fahey's Flag"—"a pastiche, which is French for a piss-take." Like Rose, Chapman looked beyond the borders of the West with a tempestuous instrumental influenced by Indonesian gamelan music, before ending on a simply revelatory pass through "Winter in Memphis," a bracing account of a dark night's travel through the American South.
The intimate nature of a person alone with just their voice and their instrument is often lost in more open spaces; the basement setting served each of the performers on this memorable night by focusing one's attention on just what a wonder the melding of mind, body and soul can be, especially with artists of such dedication and integrity.
—Mike Hotter
The Half Moon 2007
When you've already seen an artist live 25 times, it's unlikely that they will still surprise you. However, Michael's set at The Half Moon Putney on Sunday, was arguably the greatest that I've ever seen him play. I would even go as far as saying that it was one of the best gigs I've ever seen (and for a mere £8.00!). Michael gave an extraordinary performance of musical virtuosity. His voice was on top form, and he fully displayed his exceptional skills as an acoustic guitarist (not even stopping for a break).
He was in great spirits, and brought in some original humour. Michael opened with "Only Pretend" and "That Time of Night". He then played two songs from "one of his few heroes" Mose Allison - namely "Parchman Farm" and one I hadn't heard before. Other recent classics included "Sometimes" and "Memphis in Winter", and from earlier days - the beautiful "Among the Trees" and "One Time Thing" (which never fail to tug at the heart strings). The anthems were there - "Postcards of Scarborough", "Wrecked Again" and "Soulful Lady", and a few great instrumentals including "Caddo Lake" and (most notably) "La Madrugada". The Half Moon is an excellent venue, with respectful audience and tasteful lighting (and seemingly smoke-free). It was great to meet other Chapman supporters, Debbie and Colin and Ruth and Patric there. It was also good to see Ralph McTell and Wizz Jones sitting in the bar, afterwards.
Michael Chapman Sunday October 24th ; The 12 Bar; Preston.
Well I have just got back; it was a remarkable event; held to commemorate the launch of a book detailing the Preston Underground scene of the 1970's; Michael Chapman was the live act. Admission, £3.00. It was packed. There was a really well known (in Preston) music underground club called The Amethyst that had all the big 70's bands playing; Genesis; Jethro Tull, There were posters all over the walls, reproduced from the period. Pretty Things, The Multicoloured Nipples, Camel, are you beginning to get the picture? In the late 60's & 70's Amethyst was the place to go in Preston for live music on the underground scene; Michael remembered playing there 3 times; but as he came on he quipped; "Have I been booked to play here because I'm the only one still alive who can still remember how to play?"

Other acts that appeared at Amethyst in the 70's included, Barclay James Harvest, Van Der Graff Generator, Mick Abrahams Band and many more; it just goes to show how some music lives on and other stuff just fades away.

We arrived to the sound of Yes; Yours is no disgrace- sounded great and loud! To open the proceedings some guys who used to be DJ's and mc's in the 70's, now gentlemen of more mature years, were at the decks playing tracks by Mick Abrahams, Led Zep, John Mayall and John Martyn and others. Mmmmm.... some Rough, black, dark, and loud stuff; (including the décor) oil projector lamps turning, green lamps a bit of neon glowing here & there. Then some announcements about "visionary people who had had a vision and seen that vision come to fruition". I think at this point they played Ramble On by Led Zep, "a fantastic band, a truly fantastic band"

The bar quickly ran out of beer & the atmosphere was so thick with Old Holborn you could swear it had been bottled in 1975 and released 30 years later. A few guys about still with long hair, but most were loosing it faster than they could grow it; faintly comical in a charming kind of way. And a guy who appears at every 70's event I've ever been to, of whom my buddy Alan enquired of me; I wonder if he looks like Rod Stewart in real life?

Michael came on at 9.30 and introduced himself with pertinent remarks (in the circumstances) about how amazing it was that he could remember anything from 35 years ago, given the many years of self inflicted abuse he had suffered.
It was like being 18 again; and Michael was on. He played a strong set. He had to. The crowd were loud, including Keef Hartley (legendary drummer and band leader who played with Michael through the 70's), who could be heard heckling from the rear; "Rubbish" he yelled at one point; Immediately MC dedicated Bon Ton Roolay "..to Professor Hartley, the great man of jam! " and in response to Keefs' vaguely obscene gesture at the stage said, " you seem to forget; I sacked you in 1976."

Are you two still giving each other grief? I asked Keef; "Always have done", came the reply. Just in case anyone gets the wrong idea about words between MC and KH. It was all good natured banter, no malice. They enjoyed a big hot pot supper before the gig!
We heard scintillating guitar work, the trademark growly vocals, and a flashback in time as the evening got more rowdy. Unphased, Michael played on, never missing a note, to an encore of Kodak Ghosts; the best song of the night.

Then the fire alarm went off- not surprising really given all the smoke.The strangest event I've been to in a few years; unmissable. ENJOYED IT LOADS.

So we drank up our beer and left! Happy.

Graham Smout
The Junction (Otley)
Michael Chapman 10th February 2004 - Francis Denning
Back in the early 1970's Michael Chapman was recording a series of albums for the Harvest label each characterised by his relentlessly gloomy lyrics, gravel voiced delivery and beautifully fluent ragtime guitar picking. Along with fellow performers such as Roy Harper and Al Stewart he was an influential figure on the acoustic scene at the time. Imagine my delight, therefore, to discover he was playing at The Junction in Otley. (Tuesday nights at The Junction are an opportunity to catch some remarkable and varied musical performances, and it's free.)

Chapman's performance did not disappoint, an audience of middle-aged aficionados was transfixed by the unlikely figure looking strangely like a diminutive roofing contractor with a limited clothing budget.

Old favourites from his best-known album, "Fully Qualified Survivor" were interspersed with more recent songs and instrumentals. Michael Chapman had lost none of the dextrous finger picking, capacity for turning a catchily suicidal lyric, or the voice of someone who evidently needed a good cough sweet and the advice to stop smoking immediately and, although the venue was not as full as it ought to have been, he managed to create and maintain a great atmosphere.

Discussing his performance with him afterwards it was evident that here was someone who had a real enthusiasm for his music. If you get the chance to see this little known treasure give yourselves a treat.
contact us | cd shop | back to main page | how to book michael
<page updated 21/08/05>